Is Groundnut Good For Dialysis Patients
2014-03-26 11:36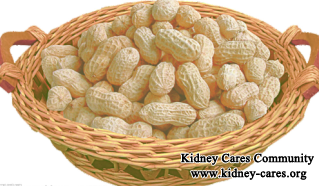 Groundnuts contain nutritious elements like protein, fats, sugar, vitamin A, vitamin E and minerals including calcium, iron and phosphorus. Its nutritious elements have many healthy benefits for people. However, for dialysis patients, they usually have a strict diet, so they are eager to know if groundnut is good for them.
Generally speaking, whether a certain food can be taken by dialysis patients mainly depends on the ingredients which are unharmful for their conditions. And now we will analyze its ingredients for you and then tell you whether it is good for you.
1. High potassium in groundnuts
Every 100g of groundnuts contain 563g potassium. For kidney dialysis patients, if they have high potassium in the blood, they are not allowed to eat groundnuts. Because damaged kidneys lose the ability of balancing potassium level in a normal volume, causing high potassium level. if they still consume high potassium level, which will aggravate their illness conditions. In this case, for dialysis patients with high potassium level, they should not eat groundnuts.
2. Decrease high cholesterol
Groundnuts contain linoleic acid that makes cholesterol decomposed into bile acid and then discharged out of the body. In this way, it avoids the accumulation of cholesterol suppressing the normal value so as to prevent the incidence rate of cardiovascular disease. From this aspect, groundnuts are good for dialysis patients with high cholesterol level.
3. Boost bone growth
Groundnuts are rich in calcium. As for kidney dialysis patients, they usually have low calcium, thus causing bone problems. In this light, they need to consume some high calcium foods to relieve their bone problems. Groundnuts are the best recommended food for dialysis patients.
To summarize, the answer to if groundnuts are good for dialysis patients is not definite, as the illness conditions vary from person to person. Therefore, if it is good for you, you had better describe your conditions to our live doctors(or leave your message to kidneycares.@hotmail.com) to know the exact answer.