What Is The Creatinine Criteria For Starting Dialysis
2014-03-16 15:45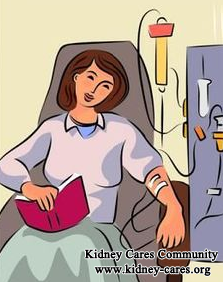 Creatinine is an indicator for kidney function. The higher creatinine is, the more severe kidney damage is. High creatinine means that there are many wastes piling up in the body due to kidney impairment. Thus, dialysis is recommended for high creatinine patients. Then what is the creatinine level for starting dialysis?
What is the creatinine level before starting dialysis?
Frankly speaking, creatinine is the only factor determining dialysis, because there are many factors that needs to be taken into consideration. Creatinine is just one major determiner.
Affected factors for starting dialysis
1. Advance CKD
If patients with advanced chronic kidney disease(CKD), they should be prepared for dialysis before their CKD becomes symptomatic. If patients have signs and symptoms of uremia, they should start dialysis while GFR is >15ml/min/1.73m2.
2. GFR <15ml/min/1.73m2
Dialysis should be considered when there is one or more of the following symptoms or signs of uremia, inability to control hydration status or blood pressure or a progressive deterioration in nutritional status. It should be taken into consideration that patients will be symptomatic and need to start dialysis if GFR is in the range of 9-6ml/min/1.73m2.
3. High-risk patients
Patients with diabetes and those whose renal function is deteriorating more rapidly than eGFR 4ml/min/year require close supervision. Usually patients whose uremic symptoms may be difficult to detect,dialysis with asymptomatic may be preferred.
4. Asymptomatic patients
If asymptomatic patients with advanced CKD may benefit from a delay in starting dialysis.
From the above we can say,there are great individual differences as to at what creatinine level should take dialysis. And we can only tell you the general creatinine level for dialysis. Usually the creatinine level for starting dialysis for male is 2.5-7.0mg/ml(220-620mmol/l) and it is 2.0-5.2mg/dl(180-460mmol/l)for the female. But remember this may not apply to all cases. It is determined by many factors such as kidney damages, physical conditions, symptoms and complications and so on.
Dialysis can only remove some creatinine out of your body, but can not repair your kidney damage. Besides, it is not better for starting dialysis earlies, because dialysis may cause many side effects. Any questions, you can leave us a message to kidneycares@hotmail.com and we are here to help you.