What Causes Diarrhea With Kidney Dialysis
2014-03-15 14:57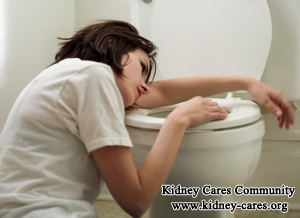 Diarrhea or watery stool can be uncomfortable, cause weakness and dehydration and stop you from doing your daily activities. What causes diarrhea in a dialysis patient? Follow us to find the possible causes.
There are many possible causes of diarrhea in a dialysis patients, including:
1. Food allergies or food poisoning
If a dialysis patient is allergic to milk foods, he may have diarrhea. Bacteria from spoiled food like E.Coli or salmonella can also lead to diarrhea.
2. Medications
When medications like antibiotics are given, they can wipe out the good bacteria in your intestine, which is able to cause diarrhea. Besides, some medicines have diuretics as a side effect, or are likely to cause diarrhea from mixing with other medicines.
3. Alcohol
Alcohol during dialysis can often lead to patients' diarrhea, because patients usually have a limitation on foods which may cause poor vitamin and mineral absorption. In this case, it can cause faster movement of food through the intestine.
4. Diabetes
Diabetes is often to be seen in dialysis patients. Diabetes can cause slow movement of food through the intestine. This will cause bacteria to grow, leading to the occurrence of diarrhea in dialysis patients.
5. Spicy foods
Dialysis patients usually follow a low salt diet. In order to make food less bland, they add spices to their dishes. Things in foods like capsicum or other spices can cause diarrhea during dialysis.
6. Nutritional supplements
Some nutritional supplements like nepro are high in calories, vitamins and minerals. This will give extra nutrition, without increasing fluids, which can pull fluid from the intestines, causing diarrhea.
There are other factors that may cause diarrhea not listed here. Ask your doctor or leave us a message to kidneycares@hotmail.com if you cannot figure out your reason for diarrhea.