Why Does Blood Pressure Drop Drastically During Dialysis
2014-03-13 17:20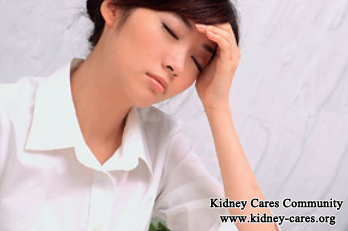 I have been diagnosed with Stage 5 Chronic Kidney Disease(CKD) and have been taking dialysis twice a week for three and half hours per session. And now I have the symptom of blood pressure drop drastically. Can you tell me the reason and what can I do for it?
Dialysis is a lifesaving treatment for those with stage 5 CKD. However, with dialysis especially hemodialysis, there are occasions when a patient may have side effects from the treatment, and low blood pressure is just one of the side effects.
One of the main jobs of dialysis is to remove excess water from your body. Removing water can lower your blood pressure at dialysis, which can make you feel wretched during and even after a treatment. We will tell you why and how to stop it.
1. Why does blood pressure drop during dialysis?
Human body is made mostly of water and the body keep the same amount of fluid in three compartments-inside your cells, in your tissues, between cells and in your bloodstream. For dialysis, it can only remove water which is in your blood. Only a small part of water weight you gain is in your blood. If your feet are swelling, fluid is in your tissues and not in your blood. During dialysis, pressure makes fluid out of your blood into the dialysate and down the drain. In this case, some water from other compartments can then move into your bloodstream, so it can be removed. During the three and half hours per session of dialysis, only so much water is in your blood to move there. The dialysis machine has a fluid goal which is your dry weight or weight with no excess water. The dialysis machine keeps pushing, even if water is not in your blood. If your blood becomes too dry, blood pressure drop occurs.
2. How to stop blood pressure drop?
To prevent excessive ultrafiltration
Clear the excess water in an exact way, and the ultrafiltration should not exceed 1% of patients' weight. The staff should regulate patients' weight to make sure dry weight is right.
Improve anemia
If you have anemia, blood substitute can be injected.
Change dialysis way
For patients with instable cardiovascular function and elderly patients, hemofiltration or peritoneal dialysis is needed.
The reason and treatment for blood pressure drop is recommended for you. If you have any doubt, you can leave your message to kidneycares@hotmail.com we will reply you within 24 hours.