Can Peritoneal Dialysis Patients Swim
2013-12-14 10:30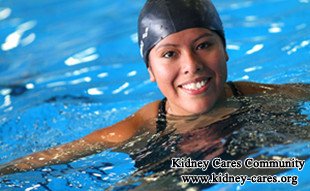 If you are on peritoneal dialysis,you should take additional steps to protect your health in hot summer.Can peritoneal dialysis patients swim?
If you are on peritoneal dialysis,you have a catheter in your abdomen.You are allowed to swim in the ocean or a private pool. Public pools may have a higher bacteria count in the water and are not advised.But you should remember to cover the catheter with a protective dressing when you swim.After swimming,the patients on peritoneal dialysis should perform their exit site care.The catheter should be immobilized to avoid trauma to or tension on the catheter during swimming or exercise to prevent irritation of the access site.
If you must going swimming,you should keep the following tips in mind.
*Never go to swim in bodies of water that are not chlorinated, such as ponds,lakes and rivers,which can increase the risk of infection of the catheter significantly.
*After you finish your swimming,you should change into dry clothes and redo your exit site care.
*Your exit site must be completely healed before swimming.
The above are some tips can help the patients on dialysis to swim safely.You can email to kidneycares@hotmail.com to get more precautions.
If the patients are on hemodialysis with catheters,they are not allowed to participate in swimming and water sports.They can not get their catheter wet because of the risks of infection. However,hemodialysis patients with fistulas and grafts can swim and get their access wet.
Is swimming allowed for you? Consult with our online doctor for an answer now!
People on dialysis have to live a very tough life and often experience many discomforts and complications.They are eager to find an alternative treatment to peritoneal dialysis.Stem cell therapy can help restore the impaired kidney structure and make the kidneys function better. Hence, the patients will be able to live a normal life like the general population.