Abdominal Pain during Peritoneal Dialysis
2013-12-10 16:23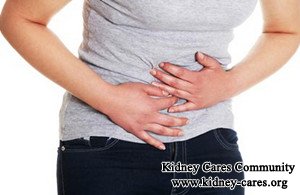 Peritoneal dialysis is one of dialysis treatments for kidney failure patients.While the patients can have a more flexible life, they still can experience some complications.Abdominal pain is a common complication of peritoneal dialysis.
Causes of abdominal pain during peritoneal dialysis
Peritoneal dialysis is a treatment method which uses abdominal membrane to filter the waste and fluid from bloodstream.The peritoneal membrane is a thin membrane that lines the abdomen. Before peritoneal dialysis is performed,a catheter must be placed into the abdomen that allows dialysate to enter and exit the body.It is extremely effective in removing waste products and it can make the patients live a better life. However, some complications like bloating, weight gain, and infection commonly occur.Abdominal pain during peritoneal dialysis results from infection.
What is the cause of infection during peritoneal dialysis?The peritoneal catheter is a potential passageway through which germs can enter the body.Frequent exchanges of dialysate can increase the risk of infection significantly.In serious case, infection can be very dangerous and even life-threatening.
How to prevent infection during peritoneal dialysis to prevent abdominal pain?You should wash hands before and after handling the catheter and using a local antibiotic cream reduces the risk of infections.You should inspect the skin surrounding the catheter to see if there is any sign of infection like swelling and redness. In addition, you should avoid the activities which can increase the risk of infection like swimming and soaking in a tub.
Both peritoneal dialysis and hemodialysis can cause a host of complications and affect the patients' normal life.How to get rid of dialysis becomes a concern for the patients.To help the patients get rid of dialysis,the patients should have a treatment to restore the impaired kidney structure and enhance renal function. Stem Cell Therapy is the recommended treatment for dialysis patients as it can restore the impaired kidneys fundamentally.