Abdominal Pain in Peritoneal Dialysis
2013-09-12 11:24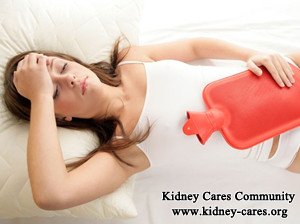 Peritoneal dialysis is one type of dialysis treatments and it is used by people whose kidneys are not functioning properly. It uses peritoneum in abdomen to filter blood.The patients on peritoneal dialysis may cause many side effects,in which abdominal pain commonly occurs.
Causes of abdominal pain in peritoneal Dialysis
An important cause of abdominal pain in peritoneal dialysis is peritonitis. Peritonitis is an infection of the abdominal cavity. As the peritoneal dialysis catheter connects the inside and outside of the body, outside bacteria is very likely enter the abdomen through or around the catheter.Signs of peritonitis may include one or more of the following:
-Nausea or diarrhea
-Fever
-Mild to severe abdominal pain
-Cloudy used dialysate fluid
If peritonitis is not treated effectively in peritoneal dialysis, it can be life-threatening. Antibiotics are commonly used to treat the condition. In serious cases, the catheter must be removed and the patients have to transfer to hemodialysis.
However, not all cases of abdominal pain in peritoneal dialysis is associated with peritonitis. How to find the specific causes of abdominal pain in your case? Consult with our online doctor right now!
Apart from peritonitis,the patients on peritoneal dialysis are also prone to develop other type of infections like infection in the skin around the catheter.Therefore,it is important for the patients to keep proper care and take precautions to prevent infection during peritoneal dialysis.
-You should wash your hands with soap and put on clean gloves before cleaning the area.
-You should hold the catheter still during cleaning, which can prevent skin injury.
-Use a clean and dry towel to pat the skin around the site dry after cleaning.
The above are some basic precautions to prevent infection during peritoneal dialysis.You can email to kidneycares@hotmail.com to get more suggestions.