Can I Eat Cheese on Dialysis
2013-09-11 11:06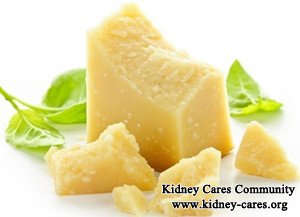 When kidneys fail to work,dialysis will be used to clean.As dialysis only takes over a partial kidney function,the patients should be careful about the foods they eat to reduce stress on kidneys. Can I eat cheese on dialysis?
Cheese and other dairy products like milk, yogurt should be limited and even avoided by people on dialysis due to high levels of potassium and phosphorus in them. High potassium levels can cause muscle weakness and serious heart problem.High phosphorus levels can lead to weak bones.So cheese is not recommended to dialysis patients.
Meanwhile, other foods high in phosphorus, potassium or both of these two minerals should also be avoided. Nuts and seeds should be avoided for dialysis patients because they contain high levels of both phosphorus and potassium.
In addition,the patients on dialysis are also recommended not to have the following foods.
Canned foods
Sodium levels can become higher when the kidneys are not functioning properly,leading to retention of fluid between dialysis treatments.To avoid this problem, the dialysis patients should avoid foods loaded in sodium.Canned foods contain large amounts of sodium and should be avoided.
You can email to kidneycares@hotmail.com to get to know what foods to avoid on dialysis.
The above are the foods to avoid for people on dialysis.After dialysis is initiated,the diet will be changed.Due to the loss of nutrients during dialysis,the patients may need more supplement of protein.However, if extra protein is consumed, a large amount of wastes will be made. So the patients should have protein intake in moderation. In addition, more vitamin, calcium etc should added to renal diet.
As the patients' condition varies from individual to individual, the diet should also be different. You can chat with our online doctor to get a personalized dietary regime.