Chinese Medicine Treatment for Proteinuria In Diabetic Nephropathy
2016-01-15 03:28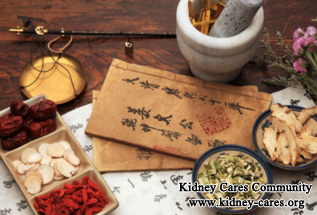 Diabetic Nephropathy is characterized by proteinuria and loss of renal function. Proteinuria is a key component of this disease. Its development causes end stage renal disease with increased mortality or morbidity for diabetic patients. The effective treatment for proteinuria in Diabetic Nephropathy is Chinese Medicine Treatment. Chinese medicine treatment can control proteinuria and prevent its progression from the root.
What causes proteinuria in diabetic nephropathy?
Diabetes for a long time can cause a number of changes to the body's metabolism and blood circulation. These changes can damage the kidney's glomeruli, which causes albumin in the urine called albuminuria or proteinuria. As diabetic nephropathy progresses, glomerular filtration barrier (GFB)is increasingly damaged. The GFB is responsible for the highly selective filtration of blood entering the kidney's glomeruli and normally allows the passage of water, small molecules, and very small proteins. Normally albumin does not pass through the intact GFB while albumin will leak into urine due to damaged GFB.
Chinese Medicine treatment for proteinuria
Western medicines can only control proteinuria temporarily. When you stop or reduce the dosage, your symptom appears again. To avoid the relapse, Chinese medicine treatment is strongly recommended, which aims at repairing injured GFB and stopping proteinuria from the root. A therapy called Micro-Chinese Medicine Osmotherapy can treat proteinuria from the root. This therapy is a natural herbal-based treatment. You just need to lie on the bed to take this treatment due to its external application. The osmosis device and penetrant fluid can help the active ingredients come to kidney lesion directly. Through dilating blood vessels, preventing inflammation and coagulation, degrading extracellular matrix and providing nutrients, damaged kidney tissues can get recovery gradually. What's more, kidney function can also be improved. In this way, proteinuria can be alleviated from the root.
Other Chinese Medicine treatments may also be used together with Micro-Chinese Medicine Osmotherapy like Medicated Bath, Mai Kang Mixture, Medicinal Soup and Foot Bath, etc. They are all good for kidney recovery. If you want to learn detailed information, you can leave a message below or email us to kidneycares@hotmail.com.