Top 9 Tips For Diabetic Nephropathy
2015-05-20 10:19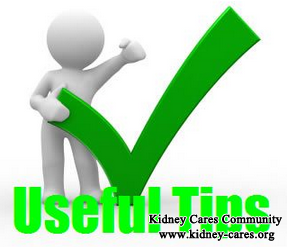 Once Diabetic Nephropathy occurs, it is difficult to control its deterioration. Therefore, early detection and early treatment can avoid the deterioration effectively and stop kidney disease from developing kidney failure and uremia. This can improve diabetic nephropathy patients' life expectancy from the root. Here we recommend you 9 tips for diabetic nephropathy treatment.
1. Control high blood pressure
Diabetes patients should control high blood sugar actively. If blood sugar can be controlled at an ideal level, you have a lower risk for diabetic nephropathy. Fasting blood-glucose should be lower than 6.1mmol/L. Postprandial blood glucose is lower than 8.0mmol/L and glycosylated hemoglobin should be less than 6.5%.
2. Control high blood pressure
High blood pressure should be managed actively. A low salt diet, proper exercise and calcium supplementation all contribute to blood pressure management. Patients with high blood pressure should take hypotensive drugs under the instruction of the doctor.
3. Control hyperlipidemia
Low density lipoprotein and high cholesterol are both risk factors for protein in urine. Therefore, people with lipid disorders should adjust the lipids. Total cholesterol should be less than 4.5mmol/L. Low density lipoprotein should be lower than 2.6mmol/L. High density lipoprotein should be higher than 1.1mmol/L. Triglyceride should be lower than 1.5mmol/L.
4. Periodic physical examination
Diabetic nephropathy is a silent killer and there is no symptom in the early stage. Therefore, it is necessary for you to take periodic physical examination especially for microalbumin.
5. Take medication treatment
Once microalbumin is found, no matter whether you have high blood pressure or not, you should take angiotensin converting enzyme inhibitors or angiotensin receptor blockers. Not only can high blood pressure be lowered but also urinary albumin can be reduced. It also delay the progression of kidney damage.
6. Follow a reasonable diet
Limiting protein intake is an important method for delaying the progression of diabetic nephropathy. Low salt diet helps control blood pressure and swelling. Calcium and iron supplementation is beneficial for kidney recover.
7. Quit smoking
Smoking will speed up the decline of kidney function. If you have the habit of smoking, you should give up it right now.
8. Prevent urinary tract infection
Diabetic nephropathy patients tend to suffer from urinary tract infection. It should be treated by formal antibiotics so as to avoid further kidney damage.
9. Avoid renal toxic medications
Some medications may do damages on kidneys. Kidney dysfunction patients had better not take medications of renal excretion. Before taking medication, you must read the instruction or consult a doctor.