Is Diabetic Nephropathy with Creatinine 4.4 Curable
2015-02-19 06:08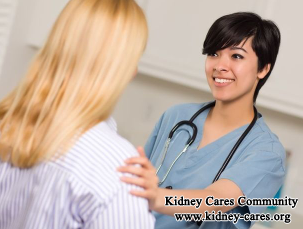 We all know a cure is what patients want, but unfortunately, some illnesses can not be cured at all. Diabetic Nephropathy is damage to kidney due to years of Diabetes. It is an illness that put patients on dialysis if no effective treatment is given timely. Serum creatinine level helps to reflect illness condition. Well, when creatinine level in blood goes up to as high as 4.4, is Diabetic Nephropathy curable?
As a matter of fact, Diabetic Nephropathy is just one of the most serious complications of Diabetes. Besides kidney, persistent high blood sugar also damage nerve system, foot and eyes. Therefore, in many cases, Diabetic Nephropathy patients also experience eye problem, foot problem or nerve problem, which makes illness more difficult to be controlled.
Normal serum creatinine level fluctuates in the range of 0.5-1.3mg/dL. Creatinine 4.4 is a very high level, which signifies kidney failure. So Diabetic Nephropathy is not curable when creatinine level is as high as 4.4, but there is way to better control this condition and help patients feel their best.
-Diabetic Nephropathy is a kidney problem caused by Diabetes which is marked by high blood sugar, so the first step that patients need to do is to keep blood sugar in normal range. In this way, further harm to kidney can be prevented.
-Creatinine 4.4 means kidneys have been severely damaged. In such a case, besides preventing further harm to kidney, patients also need to repair injured kidney structure, so as to reduce albumin in urine. Micro-Chinese Medicine Osmotherapy is the treatment that can help to repair kidney damages and reduce high creatinine level.
-Considering high blood sugar and kidney damages, diet changes should be made to help control blood sugar and protect residual kidney function. Dietary principle for Diabetic Nephropathy patients include low-salt, adequate protein intake, low-potassium, low sugar intake and low fat diet.
-Lastly, if blood pressure is high, hypotensive drugs will be needed, because tight control of high blood pressure helps protect kidneys.
Although Diabetic Nephropathy is not curable when creatinine level increases to 4.4, it can be brought under control with right treatment. If you are interested in learning more about its treatment, please leave us message below or ask online doctor for help.