Blood Plasma Exchange Therapy For Diabetic Nephropathy
2014-12-26 09:30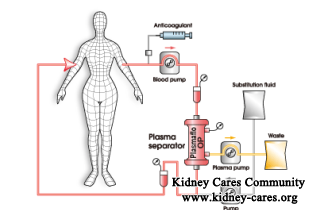 Blood plays an important role in the treatment of illness, so technology of blood purification has a big change. People are very familiar with dialysis. Blood plasma therapy is the result of the improvement of blood purification technology.
Dandang is a 18 year old girl and has diabetes for 5 years. Because the treatment she took in her local hospital is improper, blood sugar does not get well controlled all the time. Even with insulin, the therapeutic effect is not obvious. To get comprehensive treatment, she comes to our hospital.
After her hospitalization, our doctor first make a systematic check up for her. We found that the reasons of poor blood sugar control include improper medication and unlimited diet. Another important factor is neglected. That is, she suffers from hyperlipidaemia.
Simply speaking, hyperlipidaemia refers to high blood fat. Except for some genetic factors, hyperlipidamia is caused by other illnesses like diabetes and Nephrotic Syndrome (NS). Hyperlipidaemia in Dandang is due to diabetes.
The danger of hyperlipidaemia is gradual. However, as for the treatment of diabetes, high blood fat is not helpful for diabetes management.
The treatment for diabetes include restrictive diet and exercise as well as some medications like statins, resins, fibrates and nicotinic acids. However, the therapeutic effects of these medications are not satisfactory and these medications do not contribute to the protection of heart.
As for Dandan who is to attend the college entrance exam, how to eliminate diabetes in a quick, effective way is very important. Therefore, we choose blood plasma exchange therapy.
Besides, Chinese medicine is also applied. Chinese medicines have function of promoting blood circulation to remove meridian obstruction. This helps dredge blood vessels to reduce damages on body systems. Medications for lowering blood sugar are applied. Chinese medicine and western medication combine together to treat diabetes.
During one month treatment, blood fat gets well controlled after two plasma exchange therapies. This brings a good news for most diabetes patients. Comprehensive therapy can stop the occurrence of diabetes complications and alleviate some horrible complications.