Some Symptoms That Diabetic Kidney Disease Patients Need Pay Attention
2016-08-19 02:52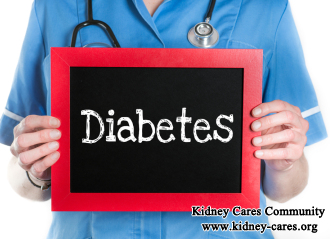 Diabetic kidney disease, also know as diabetic nephropathy, is the kidney damage caused by long years uncontrolled diabetes. With the development of this disease, patients can get some severe symptoms, there are some symptoms that patients need pay attention. Because these symptoms can tell their current condition with kidney damage. Read on, you can learn more in following article.
1. Poor appetite
Some people don't want to eat foods with poor appetite, and they can even have the symptoms like nausea and vomiting. In fact, this is the most common seen symptom in kidney disease patients.
2. Weakness or fatigue
Once kidneys are damaged, they need to work more to excrete wastes out from blood, which can worsen the disease and cause symptoms like weakness, fatigue, etc. Besides, the leakage out of protein or other nutrition from damaged kidneys can also cause this symptom.
3. Back pain
Due to kidney disease, most of the patients can get back pain
4. Edema
Most of patients get edema in eyelid, face, ankles, lower legs, etc. In some severe cases, patients can even get stomach swelling and lung swelling, which can be very dangerous.
5. Anemia
Due to kidney damage, kidneys fail to produce enough EPO, which can lead to the lack of red blood cells and cause anemia. In addition, too much toxins and wastes building up in blood can cause blood pollution, which can shorten the life span of red blood cells, thus can lead to anemia as well.
6. High blood pressure
High blood pressure is the most common seen symptom once kidneys are damaged. And the unwell controlled high blood pressure can cause further kidney damage.
Above are some of the symptoms that can occur in diabetic kidney disease patients. Once they get these symptoms, they need to see a nephrologist as early as possible and take effective treatment. Thus can slow down their progression and make a good prognosis. If you want to learn more, you can send e-mail to kidneycares@hotmail.com, or also contact with whatsapp +8615131171891. We can give more help.