Are Urine Microproteins Associated With Diabetic Nephropathy
2015-02-26 07:55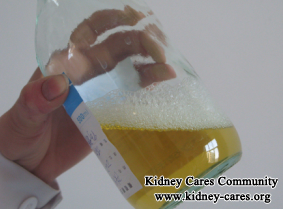 Protein in urine or proteinuria is the progressive sign of diabetic nephropathy. What to do with this condition?
Diabetic Nephropathy is the most common complication of diabetes and it is also the major reason of death in diabetes patients. Diabetes patients in the early stage will experience microproteins, high levels of glycosylated hemoglobin, high blood pressure and reduced serum high density lipoprotein. Diabetic nephropathy is easy to happen and the speed of kidney lesion is very fast.
Why do diabetic nephropathy patients have protein in urine?
If a person with diabetes has urinary albumin, he should be alert to diabetic nephropathy. The occurrence of micorproteins indicates that some parts of kidney function have been damaged. Therefore, diabetes patients have a high risk for diabetic nephropathy.
High levels of protein in urine is easy to induce kidney disease, so the key point is to reduce proteinuria and this is very helpful for stopping further kidney damage. However, once patients have cold, tiredness and other factors, they will have protein in urine again. At this time, the key point should focus on treating damaged kidney nephrons. As for diabetic nephropathy patients, they should control blood sugar and blood pressure as well as take regular checkups so as to regulate treatment plan. This contributes to controlling medical conditions and delay kidney failure and uremia.
How to prevent proteinurina in diabetes?
Albumin is one important indicator of measuring kidney damage. It is also one important part of checking diabetes.
Blood pressure and blood sugar affect the prognosis of diabetic nephropathy. Strict control of blood pressure and blood sugar play a significant role of reducing proteinuria, protecting kidney function and preventing cardio-cerebrovascular complications.
Besides, we should also regulate blood lipid levels, limit the intake of protein moderately and avoid taking renal toxic medications.