Does Diabetic Nephropathy Cause Trouble Sleeping
2015-02-11 08:02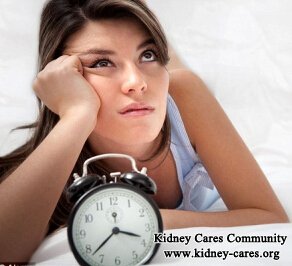 As we all know, kidney patients are often required to have a good rest, because overstrain weakens immune system so as to expose patients to more diseases. Recently some Diabetic Nephropathy patients complain about trouble sleeping. Does Diabetic Nephropathy cause trouble sleeping? How to improve sleeping quality for Diabetic Nephropathy? If you have the similar doubts, the following information can help you exclude the difficulty and anxiety.
Diabetic Nephropathy and trouble sleeping
Diabetic Nephropathy is a common complication of Diabetes. Diabetes means your blood sugar level is high. When blood flows to kidneys, your kidneys have to work hard to get rid of the excess sugar by urinating. Therefore, you may have to get up and go to bathroom all night long, which makes you trouble sleeping.
Besides, high blood sugar can damage tiny blood vessels and nerves, leading to restless leg syndrome and periodic limb movements in sleep. Restless leg syndrome makes you difficult falling asleep because of strange feelings in the legs beginning in the evening before sleep. And periodic limb movements in sleep makes you have slow, rhythmic limb movements during sleep, leading to trouble sleeping.
Tips for you to solve sleeping problems
-Follow a diabetic renal friendly diet. Such a diet does not only protect your kidneys, but also prevent blood sugar level increasing too much.
-Exercise regularly helps you improve sleeping quality and helps control diabetes. It can also lower cholesterol level and reduce blood pressure.
-Take medications as directed by your doctor to stabilize blood sugar level
-You should make a set sleep schedule to train the body for more complete sleep.
-Avoid tea, coffee, soda, chocolate and some other food high in caffeine before bedtime.
In addition, you should take comprehensive treatment for Diabetic Nephropathy, for example Micro-Chinese Medicine Osmotherapy, Medicated Bath, Mai Kang Mixture and decoction. They can help you restore kidney function.
Does Diabetic Nephropathy cause trouble sleeping? Of course, it can cause. With the help of online experts, you can get a personalized treatment plan for sleeping problems and Diabetic Nephropathy.