How To Treat Itchy Skin Of The Diabetic Nephropathy Patients
2015-01-07 07:57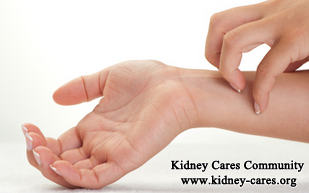 Itchy skin is an uncomfortable, irritating sensation that makes you want to scratch. One of its cause is kidney disease. Diabetic Nephropathy (DN) is one kind of kidney disease, which is caused by long time of uncontrollable diabetes. It can also cause itchy skin. Well, how to treat itchy skin of the diabetic nephropathy patients?
First, let's know what is the cause of itchy skin?
The root cause of itchy skin is the elevation of the creatinine in the blood. We all know that the kidneys play the part of filtering the extra toxins and wastes out of the body. However, once kidneys are damaged, kidney function will have a decline and then the extra wastes like the creatinine that should be discharged out of the blood would be retained in the body. What's more, the kidneys regulate the balance of the electrolytes such as phosphorus. With impaired kidneys, metabolism will also have disturbance. This makes you have itchy skin all over the body.
How to treat itchy skin of diabetic nephropathy patients?
We have learned the root cause of itchy skin is the decrease of the renal function. Thus, the treatment for itchy skin should begin with improving kidney function. How to improve kidney function?
We treat itchy skin by combining the western medicine and traditional Chinese medicine, which not only helps to alleviate the symptoms in a short time, but also improve kidney function. We first use western medicines like dialysis to alleviate itchy skin. Western medicines have a quick effect on easing symptoms but fail to treat the disease from the root. In this case, we use Chinese medicines for treating disease fundamentally. The Chinese medicines can come to the accurate kidney lesion by iontophoresis, so you do not need to worry about the effect of the medicines. The active ingredients in Chinese medicines can improve kidney function by repairing the damaged kidney intrinsic cells and they also have functions of dilating blood vessels, preventing infections and coagulation and degrading extracellular matrix, which provide enough time for kidney function recovery.