How to Deal with Puffy Eyes Caused by Diabetes
2014-08-04 08:02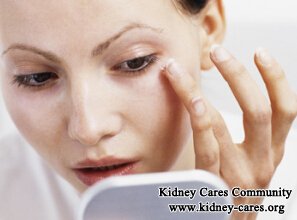 Some diabetic patients complain about puffy eyes. It seems that puffy eyes are not big problems, because healthy people sometimes suffer from puffy eye as well. But this symptom should not be ignored for diabetics. How to deal with puffy eyes caused by diabetes?
Puffy eyes may indicate that there is something wrong with your kidneys. As we all know, diabetes means your blood sugar level is higher than the normal level. Kidneys are responsible for filtering waste from the blood. In order to lower sugar level, your glomerular filtration rate increases in the early period. If you can not control your blood sugar level, your kidneys will have to work hard all the time, which over time can cause kidney function impairment. Some data show that people with 5-10 years of diabetes are more likely to have kidney disease. As long as your kidney function impairs, water and sodium retains in the body, especially in the subcutaneous loose spot like eyelid, leading to puffy eyes. With the decline of kidney function, edema may appear in the ankles, legs even the whole body. Therefore, importance should be attached to puffy eyes.
Puffy eyes usually do not need any treatment. But regular physical examination is needed to check whether your kidneys are functioning well or not. Besides, you should control your diabetes well to prevent further damage to the kidneys. If your kidneys have been damaged, the therapies like Micro-Chinese Medicine Osmotherapy can help you repair the damaged kidneys by restraining kidney inflammation, blocking blood clotting, dilating blood vessels, degrading extracellular matrix and providing essential nutrients.
Puffy eyes may be the early symptom of kidney disease. It is possible for you to reverse it after treatment. For more information, please contact online doctor or leave a message below.