Can Diabetic Nephropathy Patients Take Exercise
2015-03-06 06:59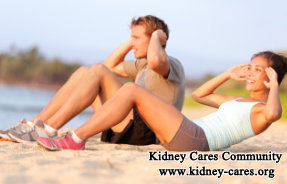 Can diabetic nephropathy patients take exercise? Patients are always concerned if they can do exercise. Renal experts think that proper exercise is helpful for the treatment of diabetic nephropathy. Let's see how diabetic nephropathy patients take exercise.
1. walking for half an hour per day and then gradually increase to one hour a day. You can talk a walk in the morning and evening.
2. choose walk and run alternatively. Patients can take a walk for 30 seconds and then begin running for 20 seconds. And you can shorten walking time and prolong your running time.
3. indoor sport is suitable for patients with many complications in the late stage of diabetic nephropathy or patients with poor physical conditions.
4. squate stand sports. At the beginning, you can do this 15-20 times every time and then gradually increase to 100 times.
5. sit-ups. At the beginning, you can take 5 sit-ups every time and then increase to 20-50 times.
6. bed movement is suit for patients who always lie on the bed.
7. patients with good physical conditions can also do jogging, swimming, riding, play badminton and other activities.
The above are proper activities for diabetic nephropathy patients. Of course, exercise should also rely on the specific conditions of individuals. If you do not know which exercise is good for you, you can describe your medical conditions to kidneycares@hotmail.com or leave a message below. We will reply you as soon as possible.