When Is Dialysis Needed by Diabetic Nephropathy Patients
2014-07-27 02:36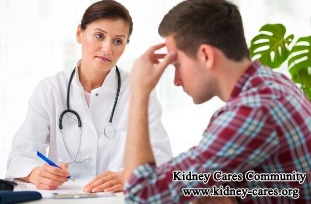 People living with Diabetic Nephropathy, a kind of kidney problem caused by years of uncontrolled Diabetes, may be told dialysis or kidney transplant will be the last treatment option finally. It is really hard to find a matched kidney within limited time, so dialysis becomes the only option in many cases. Dialysis is helpful, but torturous, so patients need to make preparation in advance. Well, when is dialysis needed by Diabetic Nephropathy patients?
Why is dialysis needed by Diabetic Nephropathy patients?
Diabetic Nephropathy is just a secondary kidney problem caused by Diabetes and it is common among people who have lived with diabetes for more than 10 years. Usually, the longer time that people live with Diabetes, the higher the morbidity of Diabetic Nephropathy is.
Kidney is responsible for clearing toxic substances away from blood, and diagnosis of diabetic kidney problem means kidney function is affected by persistent high blood sugar. Under such a condition, kidneys can not work as well as they did before, which can led to build up of toxins in the body. Dialysis is needed by Diabetic Nephropathy patients to replace failed kidney to get these toxic substances away.
When is dialysis needed by Diabetic Nephropathy patients?
Since dialysis is needed to purify blood, so in early stage of Diabetic Nephropathy, dialysis is not required at all because at that time kidney function is impaired mildly and most of the toxins can be removed timely. However, in advanced stage of diabetic kidney problem, large amounts toxins build up in the blood. Toxic substances circulate with blood and they may damage any of patients' organ. To avoid serious complications, dialysis is usually needed at that time to purify.
Creatinine is one of the wastes produced in the body. It can pass through kidney freely while flowing through kidney, so creatinine level in blood can be measured to reflect kidney condition and how much toxins there are in the blood. For people with Diabetic Nephropathy, dialysis is generally needed when serum creatinine increases to be higher than 4.5 but the fact is many patients do not start dialysis until their life is really threatened, because once they do dialysis, they need to reply in the rest of their life.
Lastly, when is dialysis needed by Diabetic Nephropathy patients depends on many conditions, and you can consult our online doctor for advice about when is the best time to start dialysis.