Precautions for Diabetic Nephropathy Patients
2015-04-11 03:55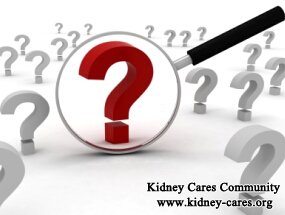 Diabetic Nephropathy is one of the common complications of diabetes. For patients with Diabetic Nephropathy, they usually pay attention to medication treatment only so that they ignore the importance role the daily care plays in the recovery of the disease. This is wrong. Now let's have a look what precautions should be taken in the daily for Diabetic Nephropathy patients.
Strike a balance to rest and exercise
When you do not have obvious symptoms, such as high blood pressure, swelling and protein leakage, you can do some gentle exercise, such as walking, jogging and tai chi to improve your condition. If you have severe swelling, high blood pressure or kidney function impairment, you had better have a good rest.
Pay attention to diet
If your kidney function has been severely damaged, you should limit the intake of protein to reduce proteinuria. You should also guarantee the intake of carbohydrates to control sugar level and through plenty of energy intake to reduce the metabolism of protein. Besides, sodium should also be limited into 3g. If your potassium level is high, you should restrict its intake as well.
Have an eye on symptom changes
You should measure your blood pressure regularly and pay attention to the urine changes, such as urine output, color, weight gain, etc. As long as there are some changes, you should tell your doctors.
In addition, many diabetic patients have diabetic foot. In the daily, you should pay attention to your skin to see whether there is cut or infection or not. It is also necessary for you to keep a good mood. Do not stop the medicine or reduce its dosage without the instruction of doctor.
The above information is a general introduction to precautions for Diabetic Nephropathy patients. If you would like personalized guidance, please send your medical test report to kidneycares@hotmail.com. We will reply you after analyzing your case.