Why Restrict Protein Intake with Diabetic Nephropathy
2012-11-19 15:24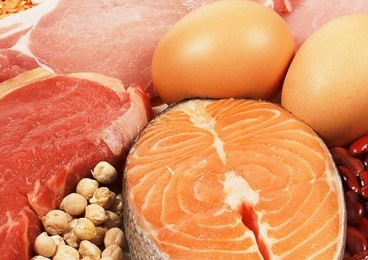 Almost all the patients with Diabetic Nephropathy are suggested to restrict protein after the diagnosis, but unfortunately, most of them do not know how to why they need to restrict protein intake?
In fact, Diabetic Nephropathy patients restrict protein intake because of proteinuria, the symbolic symptom of kidney problem for diabetics. Diabetic Nephropathy is one of the complications of Diabetes which is marked by high blood sugar. Our kidneys are in charge of filtering blood, during which, nutrition should be kept in our body. However, when blood sugar is high, our kidneys have to work harder to discharge blood glucose. Long-term high blood sugar increase renal burden and damage blood vessels in kidney, leading to kidney problem.
Protein is the essential nutrition for our normal life and they are normally kept in our body with the help of kidney. However, once kidneys are damaged, kidney function deceases and kidneys fail to reserve all the protein. Some protein leak out and get out of our body with urine, forming proteinuria. For people with Diabetes, occurrence of proteinuria always indicates Diabetic Nephropathy.
For people with Diabetic Nephropathy, when protein intake excess the reservation ability of kidney, renal burden will be increased. At that time, their kidneys have to work more hardly to keep our body normal. It is ok for our kidney to bear a high burden for a short time. However, if this condition lasts a long time, kidney condition will be worsened. Therefore, high protein intake will accelerate Diabetic Nephropathy. Besides, high intake of protein also worsen proteinuria, which also can speed up the progression of Diabetic Nephropathy. In this light, we can know that restricting protein intake is helpful for Diabetic Nephropathy patients to avoid a worsen condition.
In our life, many foods contain protein and as protein is the essential substance of our life, Diabetic Nephropathy patients can ingest high quality protein to meet the demand of their body. High quality protein produces little wastes in our body and increase less renal burden. In our daily life, high quality protein can be found in fish, lean meat, egg white and milk.
Proteinuria is just one of the symptoms of Diabetic Nephropathy. Although limiting protein intake is helpful, it is not the eternal solution. If you want to get proteinuria controlled, you need to treat kidney problem form the basis.
Get free online analysis for your illness condition here. Choose any of the following tools to start instant communication with our experts.
Leave Message
Leave your problem to us, we are here to help you with free charge!