What Should Diabetic Nephropathy Patients Eat During Dialysis
2015-08-03 02:17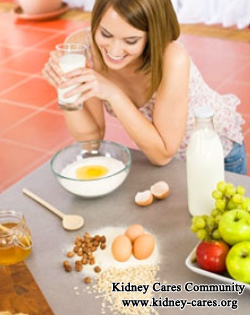 "What should I eat?". This question is frequently asked by kidney disease patients, including diabetic nephropathy patients. The following will give you some dietary suggestion on dialysis.
Diet for diabetic nephropathy patients without dialysis
High protein diet will worsen kidney's hyperfiltration and at the same time produce more toxic nitrogen metabolites so as to cause further kidney damage. Therefore, diabetic nephropathy patients without dialysis should limit protein intake to reduce damages on kidneys.
Diet for diabetic nephropathy patients on dialysis
After dialysis, illness conditions can be alleviated and appetite will also be improved. Thus, total calories and protein intake should be increased. Protein intake after dialysis should be 1-1.2g/kg of body weight. You can eat two eggs, drink 500ml milk, and eat fish and meat every day. Besides, dialysis patients also need to supplement enough vitamin B and vitamin C.
In summary, low protein, low cholesterol and unsaturated fatty acid intake play an important role in protecting kidney function. However, dietary therapy is not enough for diabetic nephropathy. Medical treatment is still the key point. Here I recommend natural Chinese Medicine Treatment-Micro-Chinese Medicine Osmotherapy to treat diabetic nephropathy. Long time of blood sugar will do damage on kidney tissues and make kidney function decline. The active substances in Micro-Chinese medicines have the functions of dilating blood vessels, preventing inflammation and coagulation, degrading extracellular matrix and providing necessary nutrients. The treatment mechanism of this therapy is to repair injured kidney intrinsic cells and rebuild the normal kidney structure. As long as your kidney function is improved, you can live a high quality life.
Dietary therapy and medical therapy are both important for diabetic nephropathy patients. If you want to learn more information, you can leave a message below or send an email to kidneycares@hotmail.com. We will give you a reply as soon as possible.