Can Diabetic Nephropathy Patients Eat Red Cabbage
2015-06-20 02:01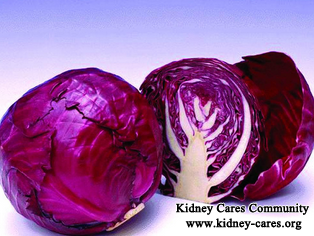 Diabetes is a common disease and diabetic nephropathy is its complication. When you are suffering from this disease, you need to make changes in your diet and lifestyle. This is good for diabetic nephropathy treatment. As for the treatment, medication treatment is the first option. The second is dietary therapy. Well then, can Diabetic Nephropathy patients eat red cabbages?
Red cabbage is loved by many people. It contains various nutrients. People can eat this vegetable safely. Can diabetic nephropathy patients eat red cabbage?
Nutrient analysis of red cabbage:
Red cabbage is nutritious such as rich vitamin C, vitamin E, vitamin B, anthocyanins and cellulose. 100gram of red cabbage contains 1.4g protein, 0.1g fat, 3.3g sugar, 57mg calcium, phosphorus 42mg and 0.7 mg iron.
Health benefits when eating diabetic nephropathy:
1. Enhance immune system
Kidney disease patients usually have low immunity and easy to be attacked by cold and infection. The disease under this condition is easy to relapse so it is very important to enhance immune system. Red cabbage is loaded with antioxidants, which are very important for the functioning of the immune system.
2. Prevent heart disease
Heart disease is a major complication of kidney disease and most people die from it more than kidney disease itself. To reduce the mortality rate, patients should eat some foods which are good for the heart. Red cabbage is such a good food. Several essential fatty acids such as omega 3 fatty acids and omega 6 fatty acids in red cabbage are beneficial for the health of the heart as they help lower the bad cholesterol levels in the body. They are even helpful in lowering the triglyceride levels.
3. Tartronic acid
Tartronic acid in red cabbage can prevent sugar in body from changing into fat. This is very suitable for diabetes patients.
4. Iron
Iron can deliver oxygen to cells and also help stimulate the production of red blood cells. This can help fight against renal anemia, which is one common complication of diabetic nephropathy. Therefore, diabetic nephropathy patients can eat red cabbage due to its iron.
Generally speaking, red cabbage is good for diabetic nephropathy patients. However, not every one can eat it. For example, if you have high potassium level in blood, you should limit the intake of potassium as well as red cabbage. To be safe, you had better consult your doctor or our online doctor before eating red cabbage.