Is Moringa Tea Useful for Diabetic Nephropathy Patients
2015-03-23 15:55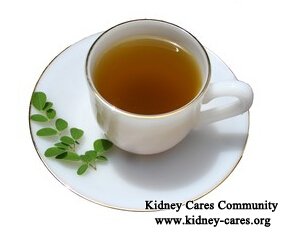 Moringa is considered to be very beneficial. Its nutritious leaves are an excellent ingredients for making teas filled with potent antioxidants. Is moringa tea useful for Diabetic Nephropathy patients? Go on reading, you will get the answer.
Moringa tea is helpful for diabetes.
Diabetes is a leading cause of kidney failure. If you want to have a good control of Diabetic Nephropathy, you should control your diabetes first. Those antioxidants promotes promote healing of diabetes-related lesions. Magnesium in moringa helps in the metabolism of glycogen and it also works with vitamin B6 to help the metabolic process within the cells. All these nutrients in moringa helps the diabetic patients to control their blood glucose level.
Moringa tea can help you strengthen immune system.
Rich content of antioxidants in moringa can help you neutralize free radicals in your body so as to reduce their damage to your body. They can also strengthen your immune system so as to help you fight against the disease.
It can also help you improve anemia.
Anemia is a common complication of kidney disease, because the damaged kidneys affect the production of red blood cells. Moringa is loaded with rich iron, which is helpful in treating anemia.
Other health benefits of moringa
Moringa can also help you lower blood pressure, relieve diarrhea, alleviate heart problems, ease arthritis, etc. Space limited, so we do not explain them one by one.
Though moringa tea has so many health benefits, it is not useful for all Diabetic Nephropathy patients. For example, if you have severe edema now, you had better limit the intake of moringa tea, because it may worsen your swelling. If you have massive proteinuria, you should also limit the intake of moringa, because it is high in protein. When your blood potassium level is high, moringa should also be limited as well. Therefore, you had better talk with your doctor before you add it into your diet. For more information, please contact online doctor or leave a message.