Is It OK to Eat Edamame if the Person Is Diabetic and Have CKD
2014-10-20 03:48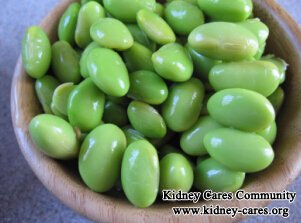 Edamame is a very popular snack in Asia. Is it OK to eat edamame if the person is diabetic and have CKD? If you want to know the answer, please go on reading.
Edamame is an important source of carbohydrates, protein, omega fatty acids, minerals and vitamins like vitamin C and A. It is also high in fiber. These nutrients endow edamame with a lot of health benefits.
Lower cholesterol level
High cholesterol level is very common among diabetic patients. Edamame protein contains isoflavones, which can reduce the bad cholesterol and raise good cholesterol levels. The dietary fiber is also helpful in controlling cholesterol level.
Relieve proteinuria
In the early stage of Diabetic Nephropathy, there may be only microalbuminuria. With the development of Diabetic Nephropathy, massive proteinuria occurs. Eating edamame correctly may help treat diabetes type 2 and reduce protein in the urine. A recent study has indicated that those consumed only soy protein in their diet excreted less protein than those that consumed only animal protein.
Prevent bone disease
Kidney patients get bone disease easily because the damaged kidneys affect the absorption to calcium. Calcium and manganese in edamame help build strong bones.
Other health benefits of edamame
Edamame can also prevent and treat diabetic nerve problems, boost immune system, reduce the risk of cardiovascular disease, inhibit inflammation, etc.
Is it OK to eat edamame if the person is diabetic and have CKD? Of course, it is. But the person should avoid too much if CKD is in advanced stage, because the damaged kidneys can not remove the waste like uric acid produced by plant protein metabolism from the blood. In addition, edemame is high in potassium and phosphorus. The accumulation of these substances will cause many complications, such as weak muscles and skin itch. For more information, please contact online doctor or leave a message below.