Some Dietary Tips For Diabetic Nephropathy Patients
2014-08-12 01:49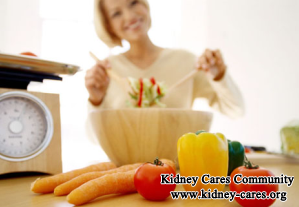 What diabetic nephropathy patients can eat and what they cannot? Diet assists the treatment of diabetic nephropathy. Therefore, high blood pressure patients should arrange a proper diet for themselves. The following are some dietary suggestions for diabetic nephropathy patients.
1. Low sugar diet
2. Limit the intake of fat
When cooking, you should use plant oil. Eat more marine fish because them contain unsaturated fatty acid which can make cholesterol oxidase so as to reduce plasma cholesterol. Also it can delay the condensation of platelet to prevent the formation of blood clots and stroke. In addition, it also contains linoleic acid, which has the functions of increasing the blood vessel flexibility, blocking blood vessels from bursting and preventing the complications of high blood pressure.
3. Proper protein intake
The amount of protein intake per day for diabetic nephropathy should be 1g of per kg of body weight. You should eat 2-3 times of fish protein, which can improve the flexibility and permeability of blood vessels and increase the expel of sodium so as to reduce high blood pressure. When high blood pressure and kidney dysfunction happen together, protein limitation should be followed.
4. Eat foods with high potassium and calcium but less sodium intake
The foods include potato, eggplant, kelp and asparagus lettuce. Foods with high calcium include milk, yoghurt, shrimp. Drink less soup made with meat because this kind of soup increases uric acid which will workload your kidneys.
5. Limit salt intake
Diabetic Nephropathy patients should take less than 6g sodium. Proper salt intake is beneficial to lower blood pressure and reduce water-sodium retention.
6. Control calories supply
Diabetic Nephropathy patients should control calories supply according to their own medical condition. Because these patients have disorder of lipid metabolism, reducing fat intake does not only help control calories but also improve metabolism disorder.
In addition, patients also had better not drink alcohol. They should take diabetic nephropathy seriously. Apart from diet, they also need to adopt medical treatment.