Is Gooseberry Good for Diabetic Nephropathy Patients
2014-07-29 08:05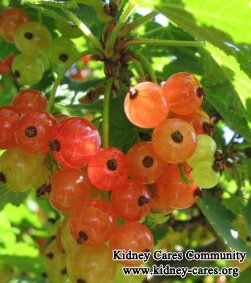 As its name implies, Diabetic Nephropathy is related with Diabetes. For People with Diabetic Nephropathy, they should not only follow a diabetic diet, but also a renal-friendly diet. Which food can satisfy the two kinds of requirements? Gooseberry is a kind of fruit with rich nutrients. Is gooseberry good for Diabetic Nephropathy patients?
For diabetic patients, they should follow a low sugar diet. From this point of view, gooseberry is a good choice for Diabetic Nephropathy patients, because gooseberry is a kind fruit with low sugar content. Besides, gooseberry contains chromium, which has a therapeutic value for diabetic patients and it increases production of insulin hormones so as to reduce blood sugar and keep their body balanced and healthy.
Gooseberry has other health benefits for Diabetic Nephropathy patients.
-Diuretic
When kidney function declines, water retention often occurs. Gooseberry is slightly diuretic in nature, which means that it increases the frequency and volume of urination.
-Immune system booster
Gooseberry is packed with rich vitamin C, which helps in fighting free radicals so as to strengthens immune system, thereby protecting you against various ailments.
-Reduce heart disease
Chromium in gooseberry can also reduce excess cholesterol buildup, reducing the blockage of blood flow towards the heart. It also improves nerve health thus it supports the proper flow of blood. So eating gooseberry can reduce the chances of heart attacks.
-Alleviate anemia
Anemia is a common symptom of kidney disease. Gooseberry is rich in iron which is effective to increase iron level in the blood thus helps to prevent anemia.
Gooseberry can also improve eyesight, help body absorb calcium, aids in digestion, promote hair growth, etc.
Now you can draw the conclusion that gooseberry is good for Diabetic Nephropathy patients. Do you want to know more information about diet and treatment for Diabetic Nephropathy? If yes, free online doctor can help you.