Is Diabetic Nephropathy Patients Allowed to Eat Guava
2014-07-22 03:44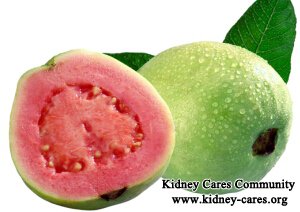 For patients with Diabetic Nephropathy, they should not only follow a diabetes diet, but also a renal-friendly diet. Guava is a kind of tropical fruit with rich nutrition. Is Diabetic Nephropathy patients allowed to eat guava?
Guava helps lower blood sugar level.
Guava is packed with high level of fiber, which helps to regulate the absorption of sugar by the body so as to decrease the chances of major spikes and drops in insulin and glucose in the body.
Guava helps regulate blood pressure.
Diabetic Nephropathy patients often have high blood pressure. Potassium in guava can counteract the effect of sodium so as to help you regulate blood pressure. But at the same time you should avoid too much of guava, because too much potassium can cause nausea, fatigue, muscle weakness, etc. In addition, guava helps reduce cholesterol in blood and prevents in from thickening, thereby maintaining fluidity of blood and reducing blood pressure.
Guava helps increase immunity.
High immunity can help you fight against infection, cold, flu and even kidney disease. Guava contains rich vitamin C, which is equal to 338% of RDA required in the daily diet.
Guava is also good for anemia.
Guava is loaded with vitamins, such as vitamin E, K, niacin, folate, B6 and minerals like copper, manganese and magnesium which are important for blood formation. Besides, vitamin C increases body capacity to absorb iron.
Other health benefits of guava
Guava can also improve constipation and digestion due to the dietary fiber. It also helps you to avoid skin problem and increase brain function.
From the above, we come to the conclusion that Diabetic Nephropathy patients are allowed to eat guava. But they should pay attention to the acceptable daily intake to avoid hyperkalemia. How many guavas you can take depends on your kidney function and some other factors. Therefore, you had better consult your doctor before adding it to your diet. And our online doctor are also glad to help you.