Foods To Avoid With Diabetic Nephropathy
2014-07-01 02:21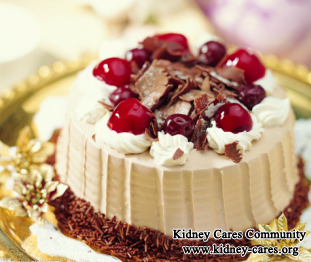 If you have diabetic nephropathy, or kidney disease, diet is an essential part of treatment. Avoiding certain foods is important to slow the progression of kidney damage. Well then what foods should be avoided by diabetic nephropathy patients?
Key components of the diet including blood sugar through carbohydrate control, managing blood pressure by decreasing sodium intake, and reducing protein intake.
Avoid high carbohydrate foods
Carbohydrate is the main energy source of our body, but it has greatest effects on our blood sugar levels. Diabetic nephropathy patients should focus on the amount of carbohydrate food and do not consume too much carbohydrate. You can spread carbohydrate intake through the day into smaller meals and snacks. Breads and grains, fruit, milk, starchy vegetables and sweets should be avoided or reduced in diabetic nephropathy diet.
In addition, diabetic nephropathy patients should avoid cakes, candies, coffee, cookies, rice, soft drinks, sweets like ice creams, white pasta and more.
Avoid high sodium foods
Sodium will increase blood pressure, which in turn causes damage in the kidneys and increases risk of heart disease and stroke. Patients with diabetes and other kidney diseases should limit or avoid canned, cured, processed foods and limit restaurant, take-out and convenient meals.
Low protein but high quality protein intake
Protein is important for building and repairing body tissues. Too much protein will increase the workload on the kidneys but too low cannot meet your body's needs. In this light, diabetic nephropathy patients should follow a low protein but high quality intake.
Avoid high potassium and phosphorus foods
Potassium and phosphorus are important minerals and they usually are kept in a normal range. However, with kidney disease, they can build up in your blood, causing many complications. High potassium level in your body will affect your heart rhythm and high phosphorus level will make bones more brittle and causing itchy skin and bone and joint pain. Therefore, foods with rich potassium like fresh apricots, bananas, kiwi, prunes, oranges, raisins, winter squash, avocado and tomato products and so on should be avoided. High phosphorus foods such as cola and brans as well as oatmeal.
The above are certain foods which should be avoided by diabetic nephropathy patients. For personalized diet, you had better consult our online doctor.