Diabetic Nephropathy Patients: Is It OK For Them To Eat Nuts
2014-03-24 11:57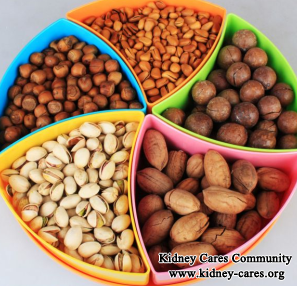 As we all know, all kidney disease patients should follow a kidney-friendly diet and choose the best foot according to their specialized conditions, so do the diabetic nephropathy patients. Nuts including sunflower seeds, almond and Chinese chestnuts, etc, is a favored by many people especially for young people. However, is it good for diabetic nephropathy patients to eat nuts? Want to the answer? Follow us to read through the passage and get the correct answer.
Generally speaking, a kidney-friendly diet means that the food do some help for patients' illness conditions and provide some essential nutrients for body needs. In this light, are nuts this kind of food for diabetic nephropathy patients?
Nuts have the following benefits and diabetic nephropathy patients can benefit from them.
1. Reduce the risk of type 2 diabetes
Researchers of Harvard University take experiments on females aging from 34 to 59 among 84,000, which lasts 16 years. And the results show that eating more nuts will reduce the risk of diabetes greatly. They think that the rich unsaturated fats and other nutrients can contribute to improving the balance between blood sugar and insulin. For diabetic nephropathy, it is a condition which is caused by long-term diabetes and poor controllable diabetes. From this aspect, diabetic nephropathy patients can eat some nuts to reduce the risk for diabetic nephropathy. Always remember the amount to be moderate.
2. Lower high blood pressure
Take lotus seed for an example, the amorphous form alkaloid N-9 is able to lower high blood pressure. For diabetic nephropathy patients, high blood pressure as a common symptom can be alleviated if patients consume lotus seeds regularly.
3. Weight maintenance
Weight maintenance is important since excess weight is the primary risk factor for diabetes. Despite their calorie density, greater nut consumption is associated with lower body weight.
4. Prevent insulin resistance
Nuts have anti-inflammatory effects which may help to prevent insulin resistance.
All these benefits of nuts contribute to the prevention of diabetes. Although nuts have benefits on diabetic nephropathy patients, it does not mean all kidney disease patients can eat nuts. Because different person has different illness conditions. For some conditions, nuts may be avoided. Therefore, if you happen to be a diabetic nephropathy patient and would like to know whether you can eat nuts, you can send your test reports to kidneycares@hotmail.com and after analyzing your illness conditions, we will tell you whether you can eat nuts or nuts.