Is Garlic Good For Diabetes And Kidneys
2014-03-16 13:53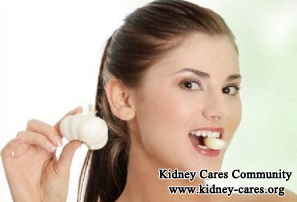 Garlic has many medical values and is taken as a kind of Chinese herb for diseases. Thus, one of our kidney disease patients asks us if it is good for him with diabetes to eat garlic. For his question, I tell him it is OK to eat garlic as garlic has benefits for his kidneys and diabetes.
Kidney disease patients with diabetes can eat garlic due to the following healthy benefits.
1. Lower blood sugar and prevent diabetes
Garlic can stimulate the secretion of insulin and increase the glucose absorption by tissue cells, elevate the glucose tolerance of human body and reduce blood sugar level in the body quickly. Besides, garlic is able to kill various bacteria which trigger the occurrence of diabetes, thus preventing and treating diabetes effectively.
2. Prevent cardiovascular disease
Garlic is able to prevent the fat deposition in heart and cerebral vessels, lower cholesterol, inhibit the aggregation of platelet, reduce the plasma concentration, promote vasodilation, regulate blood pressure as well as increase the permeability of blood vessels so as to prevent the formation of blood clots and arteriosclerosis.
3. Benefits for dialysis patients
Garlic's benefit against indigestion and nausea can help dialysis patients who are feeling these symptoms. Because most dialysis patients have a strict fluid restriction, natural garlic root and powder is taken rather than in a liquid form. Besides, as a dialysis patient, you should follow a low salt or no sodium diet. In this condition, garlic can be used as a flavor enhancer.
4. Role in kidney health
The active components of garlic can inhibit the production of blood pressure-enhancing hormones by the kidneys. They are also able to lower the reabsorption of salt by the kidneys and increase urine production. In these way, garlic may help reduce high blood pressure. Moreover, low dosage of garlic is likely to increase the antioxidant status of kidneys and protect them from free radical-medicated damage.
Generally speaking, garlic is a kidney-friendly food and patients with diabetes can benefit from it. However, it does not mean that garlic has no any side effects. Occasionally garlic also carries some side effects like bloating, upset stomach and skin lesions. To make sure its safe for you, welcome to leave us a message to our hospital's mail kidneycares@hotmail.com and we will reply you.