How Does Diabetes Cause CKD
2014-07-07 07:21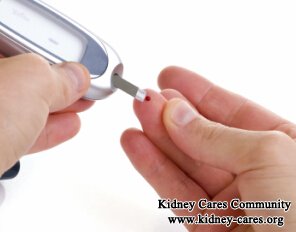 Nowadays with the improvement of living standard, people often eat food high in sugar and fat, which increases the risk of diabetes. Diabetes means your blood sugar level is high. And it becomes the first cause of CKD. How does diabetes cause CKD? If you would like to know the answer, please go on reading.
High blood sugar can increase the glomerular filtration rate. If your kidneys are always in a state of overwork, they lose their filtering ability gradually. As a result, they start to leak and useful protein is lost in the urine.
Besides, delicate nerve fibers are easily damaged if exposed to high blood sugar for a long time, which can interfere their ability to transmit signals. And high blood sugar weakens the walls of the capillaries that supply the nervers with oxygen and nutrients. Over time, the kidneys will fail to work due to ischemia and anoxia.
Therefore, if you have diabetes, you should bring the blood sugar in control as early as possible. The following information can help you control sugar level and protect your kidney function.
-You should pay attention to the complication of diabetes, that is high blood pressure, which can speed up kidney failure. Losing weight, eating food low in salt, giving up alcohol and tobacco and doing exercise regularly can help you reduce blood pressure.
-You should make a personalized diet plan to reduce the work of kidneys. The general rule is that you should follow a low protein diet, low sugar diet, low fat and high vitamin diet.
-You need to eat some medications to reduce high blood pressure, such as ACE inhibitors and ARBs to curb kidney damage.
Diabetes associated with CKD should be treated early, or when it develops to kidney failure, dialysis or kidney transplant is needed. If you would like to know more information, please contact online doctor or leave a message below.