Causes of Puffy Eyes in Diabetes
2013-09-01 14:11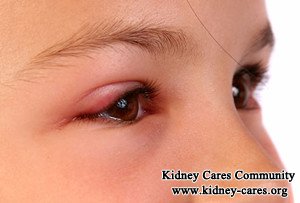 Puffy eyes can occur if there is abnormal accumulation of fluid around the eyes.This condition is commonly seen in diabetes. There is a number of medical conditions which can cause puffy eyes.Here are some possible causes.
*Diabetic nephropathy,one of serious complications of diabetes, can cause swelling due to excess sodium and fluid retention.As the kidneys are impaired, they fail to remove fluid from body properly.Due to gravity,fluid will accumulate around eyes during sleeping.So puffy eyes are very obvious in the morning.
*Puffiness may be a side effect of certain drugs,including the oral diabetes drugs.People sometimes experience mild edema when starting on insulin therapy,but this generally goes away within a few weeks.
In addition,congestive heart failure and deep vein thrombosis in Diabetes may result in retention of fluid.
How to relieve puffy eyes in diabetes?
As there is a variety of causes of puffy eyes in diabetes,to control it,the first step is to figure out the specific causes. Based on the causes,the targeted treatment will be adopted. Consult with our online doctor and get to know the cause of puffy eyes in diabetes.
Diabetic nephropathy commonly occurs among people with a history of diabetes for 5~10 years.If puffy eyes are related to
Kidney disease,the major treatment goal is to improve the secretory ability of the kidneys.Micro-Chinese Medicine Osmotherapy can stimulate the self-regeneration of impaired kidney tissues to enhance renal function. If so, the excess fluid will be eliminated out of body. Diabetic nephropathy is a very serious complication of diabetes. Without effective treatment, Kidney Failure will come soon.
If puffy eyes in diabetes are related to medicines, the doctors can adjust the medicine dosage or ask you to change to other medicines.
If you are a diabetes sufferer with puffy eyes, you can email to kidneycares@hotmail.com for more suggestions.