High Creatinine in Patients with Kidney Stones
2012-12-02 10:46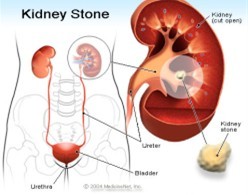 High creatinine in patients with kidney stones is usually a warning sign that the kidneys have been damaged by the kidney stones. If you are troubled by elevated creatinine, it is necessary to adjust to an appropriate diet and treat the scarred kidneys properly so as to bring abnormal creatinine levels under control.
Why kidney stones cause high creatinine?
Creatinine is a nitrous product and is mainly discharged by the kidneys in the form of urine. Creatine test is important for accessing how well the kidneys are functioning. If there is more creatinine than normal range in a body, it is because the kidneys are malfunctioning and unable to filter creatinine out. Kidney stones can often cause creatinine levels to rise. Those stones in kidneys can be extremely painful and may eventually cause injuries. If the stones move around the kidneys, they can cause rupturing of kidney membranes and you will notice blood in urine.
In a patient with kidney stones, combined urinary tract infections can also contribute to elevated creatinine. In some cases, elevated creatinine may be the effect of certain Nephrotoxic medicines, such as non-steroidal anti-inflammatory drugs (NASID). Therefore, the doctors will firstly ask detailed medical history of a patient before diagnosing further.
Management of high creatinine in Kidney Stone
There is a special diet to stick to for patients with kidney stones and elevated creatinine. As high creatinine mainly results from poorly functioning kidneys, it should be noticed that treatment for improving the injured kidneys is appropriate to lower creatinine. There are several types of kidney stones; because people have refractory renal stones, they may use herbal medicine treatment which helps prevent further formation of stones and improve the kidneys.
If certain medicines are causing the increase in creatinine levels, the best way to lower it is by lowering the drug dosages. Since the kidneys are weak, avoid consuming caffeine, sugary foods, dairy foods, red meat, alcoholic beverages, processed foods and other fatty foods, which can allow kidneys to work more efficiently. If you are seeking for a renal diet, you will find most requires low sodium diet which helps to control blood pressure and prevent fluid retention. Proteins should be those from animal products such as egg white, lean meat, milk, etc.
If you have kidney stones with elevated creatinine, you will need to manage it carefully as is suggested by an expert doctor.
Get free online analysis for your illness condition here. Choose any of the following tools to start instant communication with our experts.
Leave Message
Leave your problem to us, we are here to help you with free charge!