Is Bitter Gourd Good For High Creatinine Level
2015-09-28 02:25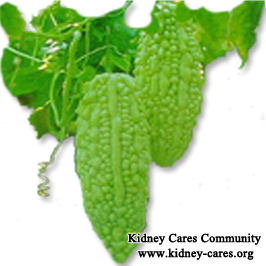 Is bitter gourd good for high creatinine level? Most patients like to lower high creatinine level through diet. They often consult our online or email to kidneycares@hotmail.com about what they can eat and what they should avoid. Here we will talk about bitter gourd and high creatinine.
First, it is important to know what causes high creatinine level in kidney disease.
Generally speaking, the buildup of creatinine in the blood is caused by the decline of creatinine clearance rate by kidneys. Namely, damaged kidney filters, known as glomeruli, is the root cause. For kidney disease patients, high creatinine level indicates at least half of kidney function has been damaged. Diet plays an important role in slowing down the progression of kidney disease and promoting the excretion of waste products indeed.
Second, is bitter gourd good for high creatinine level?
Bitter gourd contains rich nutrients like vitamin C, protein, fiber, potassium, etc. With these nutrients, it can promote kidney health so as to make kidneys to eliminate excess toxins and wastes from the blood timely. In this condition, high creatinine level can be reduced to some extent. What's more, kidney disease patients can also get other health benefits from bitter gourd as below:
1. Diabetes
Bitter gourd is good for all diabetic patients. Diabetes is a leading cause of kidney disease so it is necessary to treat diabetes timely. Bitter gourd can reduce the sugar level in the blood significantly. This can reduce the risk of kidney disease to some extent.
2. Constipation
Constipation is a common complication of kidney disease. To alleviate constipation, bitter gourd can do some help. It helps in easy digestion as it contains fiber properties. The food is digested and the waste is thrown out of the body which helps in constipation problem.
3. Heart disease
Heart disease is the major cause of death in kidney disease patients so patients have to keep their heart healthy. Bitter melon is good for the heart in many ways. It helps reduce the bad cholesterol levels which clog the arterial walls and thus reduces the chances of heart attack.
However, due to high potassium, fiber and other nutrients contained in bitter gourd, it is not available for a part of patients with high creatinine level. Thus, before eating it, you had better consult your doctor or have a talk with our online doctor for quick answer.
Our Treatment Effect
High creatinine level is dangerous to a kidney patient
Move the mouse to enlarge the picture
If you also want to reduce your high creatinine level, please look at this patient's report. When he was just hospitalized in our hospital on Dec 11, 2018,
His creatinine:1028umol/L,
urea: 39.7mmol/L
UA : 513umol/L
After a period of our treatment,
his creatinine:331umol/L, urea:16.1mmol/L
UA :325umol/L on Jan 5, 2019.
His condition was getting better and better. You can also get better.
For a CKD patient, you can choose Chinese medicine treatments to control your condition. your creatinine level can be reduced radically, symptoms can be alleviated and more importantly, your renal function will be improved. In this way, you can stay away from end stage kidney disease and avoid dialysis.