What Is The Reason Of High Creatinine Level After Dialysis
2015-08-29 02:49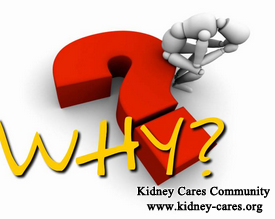 As we all know, dialysis is used to replace the functions of injured kidneys to discharge excessive water, wastes and metabolites from the blood. In this way, it helps lower high creatinine level and high blood urea nitrogen (BUN) level and purify the internal environment. However, in some cases, some patients complain that they have continuously increased creatinine level after dialysis. What is the reason of increased creatinine level after dialysis?
1. Possible causes of high creatinine after dialysis
Inadequate dialysis
Usually patients in end stage renal disease need to take 3 times of dialysis every week and each dialysis lasts for 3-5 hours to ensure the adequacy of dialysis. If your creatinine level is still high after dialysis, it indicates that you may need to undergo dialysis at more frequent intervals.
Dialysis cannot function as healthy kidneys
Dialysis is just an artificial machine and it cannot replace the full functions of kidneys. Serum creatinine does decline but is higher than normal values. Why we say this is normal? The reason is that dialysis is usually done three times a week and lasts 3 or 4 hours each time, while our kidneys work 24 hours all day. Therefore, dialysis is not able to be effective as healthy kidneys. Therefore, high creatinine level cannot be lowered to some extent by dialysis but cannot be cured from the root.
2. What is the treatment for high creatinine level after dialysis?
One is to increase dialysis frequency. This can be helpful.
Another option is to combine dialysis with other advanced blood purification technology such as Blood Plasma Exchange, Hemofiltration, Immune Adsorption and Blood Perfusion, etc.
Repairing kidney damage and enhancing kidney function is the best treatment for high creatinine level after dialysis. Have you heard of Hot Compress Therapy? It is an innovated therapy based on traditional Chinese medicine and it is a natural treatment. It is a therapy that can remove waste products completely through repairing injured kidney cells and improving kidney function. If you have interests in this therapy, you can leave a message below or send an email to kidneycares@hotmail.com for a reply.
Our Treatment Effect
High creatinine level is dangerous to a kidney patient
Move the mouse to enlarge the picture
If you also want to reduce your high creatinine level, please look at this patient's report. When he was just hospitalized in our hospital on Dec 11, 2018,
His creatinine:1028umol/L,
urea: 39.7mmol/L
UA : 513umol/L
After a period of our treatment,
his creatinine:331umol/L, urea:16.1mmol/L
UA :325umol/L on Jan 5, 2019.
His condition was getting better and better. You can also get better.
For a CKD patient, you can choose Chinese medicine treatments to control your condition. your creatinine level can be reduced radically, symptoms can be alleviated and more importantly, your renal function will be improved. In this way, you can stay away from end stage kidney disease and avoid dialysis.