Is It Safe To Drink Coconut Water With High Creatinine
2015-07-22 07:37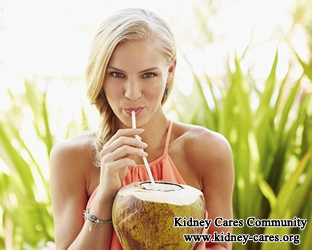 High creatinine level is an important measurement of kidney function. To lower it or stop its elevation, daily diet is important. As we all know, drinking coconut water can save us from various health related problems. Well then, is it safe to drink coconut water with high creatinine?
Here are some of the health benefits of coconut water that you might want to take note of.
1. Coconut water helps diabetics.
Coconut water is rich in a lot of nutrients that are required by diabetics to keep the blood sugar levels in control. Long-term or poor control of diabetes will cause kidney disease. Thus, diabetes can drink some coconut water to reduce the chances of kidney disease.
2. Coconut water reduces blood pressure.
High blood pressure is a second leading cause of kidney disease. Because coconut water contains an adequate supply of electrolytes, it can be used as a balancing mechanism to reduce blood pressure.
3. Coconut water has diuretic properties.
Coconut water is effective as a diuretic as it expedites the flow of urine. With more urine output, wastes can be discharged with urine from the body. In this way, it can lower high creatinine level to a certain extent.
4. Coconut water is good for cardiovascular health.
Coconut water reduces the risk of heart attacks. Also coconut water helps to increase good cholesterol which makes it a wonderful treatment for maintaining good cardiovascular health. This is very important for kidney disease patients because cardiovascular disease is a major cause of death in kidney disease patients.
5. Coconut water prevents muscle cramps.
Most kidney disease patients suffer from muscle cramps. One of the biggest benefits of coconut water is to prevent muscle cramps.
Although coconut water has so many health benefits for kidney disease patients, it does not mean all patients can drink coconut water. For instance, patients with high potassium in blood should avoid drinking too much this water because coconut water is high in potassium. If you have any question, just feel free to leave us a message below or email to kidneycares@hotmail.com. We will give you guidance as soon as possible.
Our Treatment Effect
High creatinine level is dangerous to a kidney patient
Move the mouse to enlarge the picture
If you also want to reduce your high creatinine level, please look at this patient's report. When he was just hospitalized in our hospital on Dec 11, 2018,
His creatinine:1028umol/L,
urea: 39.7mmol/L
UA : 513umol/L
After a period of our treatment,
his creatinine:331umol/L, urea:16.1mmol/L
UA :325umol/L on Jan 5, 2019.
His condition was getting better and better. You can also get better.
For a CKD patient, you can choose Chinese medicine treatments to control your condition. your creatinine level can be reduced radically, symptoms can be alleviated and more importantly, your renal function will be improved. In this way, you can stay away from end stage kidney disease and avoid dialysis.