Can Someone With High Creatinine Level Eat Tomato
2015-06-05 08:15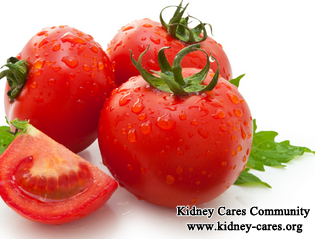 High creatinine level is usually related with kidney disease. A proper diet plays an important role in the treatment of creatinine level. Tomatoes are loaded with many, many health benefits. Well then, can someone with high creatinine level eat tomato?
Tomato contains rich vitamin C, rutin, lycopene and acidity, etc. These minerals help lower serum cholesterol, prevent coronary artery disease, lower high blood pressure and ease swelling. Thus, eating tomato correctly helps treat kidney disease to some extent. Tomatoes have the following health benefits:
1. Reduce the risk of heart disease
Tomatoes contain nutrients, such as niacin, folate, vitamin B6, that have been proven to reduce the risk of heart disease. This in turn avoids worsening kidney disease.
2. Treat diabetes
Diabetes is a leading cause of kidney disease and should be managed well. Studies have shown that type 1 diabetics who consume high-fiber diets have lower blood glucose levels and type 2 diabetics may have improved blood sugar, lipids and insulin levels.
3. Relieve constipation
Constipation is a common complication in kidney disease. Eating foods that are high in water content and fiber like tomatoes can keep you hydrated and your bowel movements regular. Fiber is essential for relieving constipation.
Apart from the above health benefits, tomatoes are also good for skin, bone, teeth and blood pressure. However, not all kidney disease patients can eat tomatoes. For example, if patients have high potassium level in blood, tomatoes should be avoided or limited.
All in all, whether you can eat tomato or not depends on your medical condition. Eating correctly is able to assist your whole treatment, but in turn, eating mistakenly may worsen your condition. Therefore, consult your doctor or our online doctor before eating something.