Does An Elevated Creatinine and BUN Make Your Skin Itchy
2015-05-27 03:56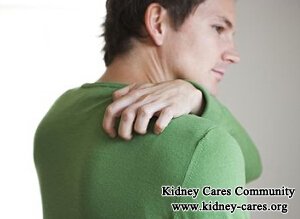 With elevated creatinine and BUN, you may have a lot of body malaise, because your kidneys are severely damaged. Does an elevated creatinine and BUN make your skin itchy?
Causes of skin itch
Both creatinine and BUN are waste products. They do not increase until more than 50% of kidneys are damaged. Our whole body needs blood to maintain their normal function. When the blood is polluted, the whole body can be affected, such as skin.
-High BUN can cause skin itchy directly, because some of the accumulated urea nitrogen is passed out of the body through sweat glands. They can stimulate the nerve endings, leading to skin itchy.
-High creatinine and BUN indicate that toxin concentration in the blood is very high, which can pull fluid from the skin to make the skin dry. Dry skin can it itchy.
-With the stimulation of waste products, sweat glands may shrink so that they can not secrete enough oil to nourish your skin so as to make it itchy.
-High phosphorus in the blood can also make your skin itchy.
Ways to help you relieve skin itch
With the development of kidney disease, your skin itch may become worse and worse so as to affect your normal life. In Traditional Chinese Medicine, there are many therapies to help you, such as Medicated Full Bath. After taking such a bath, you can feel very comfortable. Therapies, such as medicated foot bath, enema therapy, circle therapy and steam therapy can draw toxins from your body to reduce toxin concentration in the blood so as to ease skin itch. Those therapies can also set up a good blood environment for kidney self-healing and provide the essential nutrients such as vitamins and amino acids for the damaged kidneys to repair themselves. After a period of treatment, symptoms associated with kidney disease will disappear and your creatinine and BUN will decrease.
Does an elevated creatinine and BUN make your skin itchy? Yes, they can. If you would like to know more information, please contact online doctor or leave a message below.
Our Treatment Effect
High creatinine level is dangerous to a kidney patient
Move the mouse to enlarge the picture
If you also want to reduce your high creatinine level, please look at this patient's report. When he was just hospitalized in our hospital on Dec 11, 2018,
His creatinine:1028umol/L,
urea: 39.7mmol/L
UA : 513umol/L
After a period of our treatment,
his creatinine:331umol/L, urea:16.1mmol/L
UA :325umol/L on Jan 5, 2019.
His condition was getting better and better. You can also get better.
For a CKD patient, you can choose Chinese medicine treatments to control your condition. your creatinine level can be reduced radically, symptoms can be alleviated and more importantly, your renal function will be improved. In this way, you can stay away from end stage kidney disease and avoid dialysis.