Can I Taking Baking Soda To Reduce High Creatinine Level
2015-05-24 02:37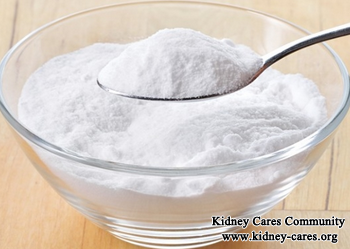 The chemical name of baking soda is sodium bicarbonate. It is not only an important ingredient for your baking dishes, but also can help alleviate various illnesses. Well then, can baking soda reduce high creatinine level?
What causes high creatinine level?
Creatinine is the metabolic product of creatine. Under the normal condition, the production of creatinine is stable. They are mainly excreted by kidneys. When kidneys are damaged, they cannot effectively discharge creatinine out of the body, causing high creatinine level. High creatinine level always relates to kidney problems. Of course, elevated creatinine level can also be caused by other conditions like much meat intake, certain medications and some exercise. High creatinine level under these conditions will go back to normal after a period of time. You have no need to worry about them too much. You should take timely treatment for high creatinine level caused by kidney disease. Because high creatinine level usually does not occur until half of kidney function has been damaged.
Can baking soda reduce high creatinine level?
Baking soda is good for renal health. According to a study, sodium bicarbonate could prevent kidney disease and renal failure. Progression of chronic kidney disease or CKD, which causes permanent kidney damage, be arrested by regular consumption of baking soda. Regular intake of baking soda by CKD patients could reduce the need for dialysis. From this aspect, we can see baking soda can slow down the progression of kidney disease and manage creatinine level. However, kidney disease patients should follow a low sodium diet. Sodium has the function of increasing blood pressure and worsen the retention of water in blood, causing high blood pressure and edema. Baking soda contains sodium. Therefore, you had better consult your doctor or our online doctor before taking baking soda.