Is There Any Pill To Lower Creatinine Level
2015-05-11 02:47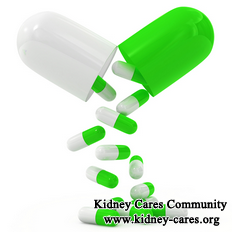 There are multiple reasons for high creatinine levels, and kidney disease can be one of them. High creatinine level is much concerned by many patients. Well, is there any pill to lower creatinine level?
Ketosteril for high creatinine
Ketosteril is known as compound α-ketoacid tablets and it has certain effects on lowering high creatinine level. Ketosteril can supply amino acids and at the same time reduce urea production as well as protein-related metabolic wastes and toxins so as to lower creatinine level. However, lowering creatinine level is not the final goal because it is only a symptom reflecting renal damage. Only the root cause is treated can further relapse of high creatinine level be avoided.
What is the root cause of high creatinine level?
Creatinine is made in the muscles as a breakdown product of muscle wear and tear and then filtered through the kidneys and put out into the urine. The creatinine level in blood is a measure of overall kidney function. When the kidneys are not working properly, they fail to excrete creatinine into the urine. When this happens, creatinine level in the blood will elevate.
From this, we can see high creatinine level is due to decline of glomerular excretion ability and impaired kidney function. Thus, lowering high creatinine level should repair kidney damage and improve kidney function. Only in this way can high creatinine level be lowered. Under such a condition, we recommend Micro-Chinese Medicine Osmotherapy which has functions of dilating blood vessels, preventing inflammation and coagulation, degrading extracellular matrix and providing nutrients so as to repair injured kidney intrinsic cells and restore part of renal structure and part of renal function. Ketosteril combining with Micro-Chinese Medicine Osmotherapy will have a better therapeutic effect.
Any question, please consult us freely. We are glad to help you.
Our Treatment Effect
High creatinine level is dangerous to a kidney patient
Move the mouse to enlarge the picture
If you also want to reduce your high creatinine level, please look at this patient's report. When he was just hospitalized in our hospital on Dec 11, 2018,
His creatinine:1028umol/L,
urea: 39.7mmol/L
UA : 513umol/L
After a period of our treatment,
his creatinine:331umol/L, urea:16.1mmol/L
UA :325umol/L on Jan 5, 2019.
His condition was getting better and better. You can also get better.
For a CKD patient, you can choose Chinese medicine treatments to control your condition. your creatinine level can be reduced radically, symptoms can be alleviated and more importantly, your renal function will be improved. In this way, you can stay away from end stage kidney disease and avoid dialysis.