Why Creatinine Level Keeps Increasing Even with Dialysis
2015-05-10 00:53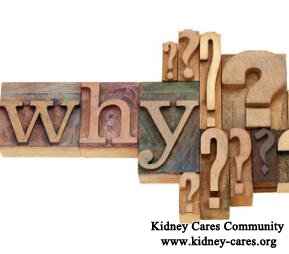 Dialysis is a common used way for kidney failure patients to remove waste products and excessive fluid from the blood to maintain the life. But some patients complain that their creatinine level increases even with dialysis. Do you know why? Go on reading, you will get the answer.
First, let's learn more information about creatinine.
Creatinine is a kind of waste products produced when muscles contract or when you consume meat. Under normal circumstance, its production does not change unless you do some strenuous activities or eat a large quantity of meat or creatine. Your kidneys are responsible for its output. When your kidneys are healthy, creatinine level can be kept into normal range (0.5-1.2 mg/dL). But when your kidneys are damaged, its output is blocked so that creatinine level increases gradually. When your kidneys lose more than 50% of its function, your creatinine level increases quickly.
Creatinine and dialysis
Dialysis takes over part of your kidney function to lower creatinine level, but it can not replace your kidneys and improve your kidney function. As long as you stop dialysis, creatinine builds up in the blood again. In such case, if you can not increase the dialysis frequency to increase the output of creatinine, your creatinine level keeps increasing. But long-term dialysis has many shortcomings, for example, it is not good for kidney function preservation and it brings you many complications such as cardiovascular disease, anemia, etc.
Alternative treatment for you to lower creatinine and avoid dialysis
If you still have urine output, it is possible for you to repair the damaged kidneys and restore kidney function. In China, we develop Blood Pollution Therapy for kidney failure patients. This therapy combines many kinds of blood purification ways, which does not only cleanse your blood to lower blood toxin concentration, but also remove stasis in the blood vessels to improve blood circulation in your body. Besides, it supplements the essential elements such as vitamins and amino acids for kidney self-healing. When your damaged kidneys get enough oxygen and nutrients, they can regain their ability gradually.
Why creatinine level keeps increasing even with dialysis? Do you get the answer? If you are satisfied with the answer or if you have any other questions, please leave a message below or send emails to kidneycares@hotmail.com.
Our Treatment Effect
High creatinine level is dangerous to a kidney patient
Move the mouse to enlarge the picture
If you also want to reduce your high creatinine level, please look at this patient's report. When he was just hospitalized in our hospital on Dec 11, 2018,
His creatinine:1028umol/L,
urea: 39.7mmol/L
UA : 513umol/L
After a period of our treatment,
his creatinine:331umol/L, urea:16.1mmol/L
UA :325umol/L on Jan 5, 2019.
His condition was getting better and better. You can also get better.
For a CKD patient, you can choose Chinese medicine treatments to control your condition. your creatinine level can be reduced radically, symptoms can be alleviated and more importantly, your renal function will be improved. In this way, you can stay away from end stage kidney disease and avoid dialysis.