Does Yoga Help A Patient With High Creatinine
2015-05-07 09:55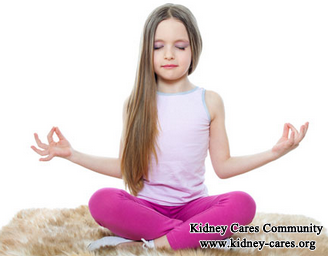 High creatinine level is an indicator of kidney damage. If left untreated, it will be dangerous and life-threatening. Most patients think they cannot do any exercise once they have kidney disease. On the contrary, they can do some exercise to improve their immunity and overall health. Does yoga help a patient with high creatinine level?
Yes, yoga is beneficial for patients with kidney disease.
1. Lower high blood pressure
High blood pressure is a leading cause and also a major complication of kidney disease. A consistent yoga practice decreases blood pressure through better circulation and oxygenation of the body. These two exercises can help lower blood pressure.
2. Improve blood circulation
Yoga helps improve blood circulation. By transporting nutrients and oxygen throughout your body, yoga practice alleviates renal ischemia and anoxia state to block renal fibrosis and reduce further kidney damage.
3. Immunity
Kidney disease patients should improve their immunity to fight against further damage on kidneys and avoid relapse of the disease. Yoga practice has frequently been correlated with a stronger immune system.
4. Improve sleep quality
Due to itchy skin, muscle cramp and frequent urination, kidney disease patients usually have a poor sleep quality. Yoga can provide many benefits to both body and mind, sleep quality can be better with yoga practice.
5. Relieve anemia
Yoga has been shown to increase the level of red blood cells in the body. Red blood cells are responsible for carrying oxygen through the blood, and too few can result in anemia and low energy.
In summary, yoga is helpful for patients with high creatinine levels in blood. But not all patients are allowed to practice yoga. Polycystic Kidney Disease (PKD) patients should pay attention to yoga postures so as not to cause kidney cyst burst.