A Specific Diet To Lower Creatinine Level In Blood
2015-04-01 02:07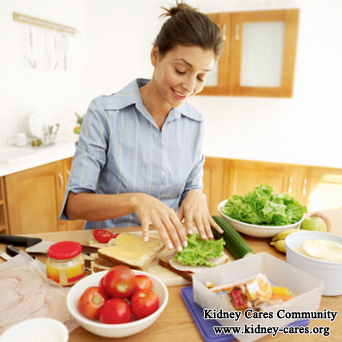 High creatinine level in blood usually indicates kidney damage. Many people want to look for a specific diet to lower creatinine level in blood. Kidney function restoration can be achieved by making some changes to your diet.
One way to help reduce creatinine level in blood and the strain on your kidneys is to modify your diet.
1. stay away from foods rich in protein
Stay away from foods rich in protein, including meat and dairy products. Instead, eat more protein from sources such as beans and lentils. Eating less protein reduces the amount the workload of the kidneys. It also reduces the amount of creatinine the body produces.
2. Drink plenty of water
If you have no swelling, you can drink plenty of water to help flush excess creatinine out of your system.
3. eat more vegetables
Eat a diet rich in vegetables, fruit, whole grains and beans. You can get all the fats and sugars your body needs from these sources without putting a strain on your kidneys.
4. avoid the sodium content of foods
People with kidney disease should avoid the sodium content of foods such as fast food, frozen meals, canned vegetables, pickled or cured meats, canned soups and cheese, etc. Foods high in salt can raise your blood pressure and cause prolonged damage to your kidneys.
Moreover, patients with high creatinine level in blood can also take some herbal medicine. Herbal medicine can expand blood vessels. It can increase blood and oxygen supply to kidneys thus relieving renal ischemia and anoxia. Once the blood circulation improves, it can promote the excretion of metabolic products such as creatinine, urea nitrogen so as to bring high creatinine level down. Herbal medicine include dandelion root, nettle, cinnamon and corn silk, etc. If you want to know more information of kidney diet, you can leave a message below or consult our online doctor directly.
Our Treatment Effect
High creatinine level is dangerous to a kidney patient
Move the mouse to enlarge the picture
If you also want to reduce your high creatinine level, please look at this patient's report. When he was just hospitalized in our hospital on Dec 11, 2018,
His creatinine:1028umol/L,
urea: 39.7mmol/L
UA : 513umol/L
After a period of our treatment,
his creatinine:331umol/L, urea:16.1mmol/L
UA :325umol/L on Jan 5, 2019.
His condition was getting better and better. You can also get better.
For a CKD patient, you can choose Chinese medicine treatments to control your condition. your creatinine level can be reduced radically, symptoms can be alleviated and more importantly, your renal function will be improved. In this way, you can stay away from end stage kidney disease and avoid dialysis.