Does Watermelon Lower Creatinine In Kidney
2015-03-25 03:02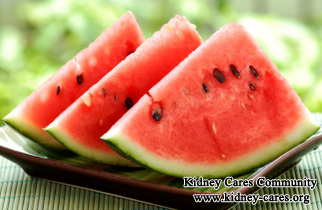 Kidney disease people with high creatinine level are looking for proper diet that may help them lower the creatinine level. Some people may eating watermelon can decrease creatinine level. However, is this true?
Watermelon is more than 90 percent water. Eating watermelon can have a diuretic effect to increase urine output which helps discharge some toxins and wastes out of the body, including creatinine. In this respect, watermelon helps lower high creatinine level. However, it does not mean all kidney disease patients with high creatinine level can eat watermelon.
In which situation watermelon can not be eaten by kidney disease patients?
Watermelon and swelling
Healthy kidneys help discharge excess water from the body while damaged kidneys fail to balance water. That is, kidney disease patients often have water-retention. Besides, people with advanced stage of kidney disease often have reduced urine output. In this condition, eating watermelon and other fruits containing too much water can cause severe water retention, swelling and worsened high blood pressure.
Watermelon and rich potassium
Potassium in watermelon is provided in the highest amounts. Impaired kidneys are difficult to discharge excessive potassium from the body so potassium level in kidney disease patients is usually high. Patients should avoid eating high potassium foods including watermelon, bananas, kiwi fruit.
We can not say all kidney disease patients eat watermelon to lower high creatinine level. Whether watermelon is suitable for you or not should depend on your medical conditions. You can consult our online doctor for professional advice.