How To Bring Down High Creatinine Level
2015-03-13 06:48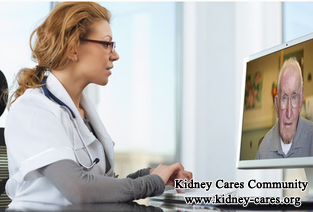 Creatinine is a waste product in everyone's blood. In normal cases, kidneys should be able to filter and pass this substance out of your body. However, when kidneys are damaged, they allow harmful amounts of creatinine to build up. To reduce high creatinine level, you should take following methods.
1. change your diet
Limit sodium intake
Excessive sodium can cause unhealthy amount of fluid retention and may lead to high blood pressure. Both of these issues can result in high creatinine level. Therefore, high creatinine level patients should maintain a low sodium diet and stay away from salty foods and drinks.
Pay close attention to protein intake
Avoid foods that are high in protein as much as possible. Red meat and dairy products can be bad for you. When you do consume protein, try to obtain it from plant-based sources, like nuts and other legumes.
Limit phosphorus -rich and potassium-rich foods
Damaged kidneys may have a hard time processing phosphorus-rich and potassium foods, especially if you have high creatinine levels. Thus, high creatinine level patients should avoid phosphorus-rich foods like pumpkin, cheese, fish, shellfish, nuts, pork, low fat dairy products and soybeans. High potassium foods should also be limited including dried fruits, bananas, spinach, potatoes and peas.
2. herbal tea
Some herbal tea is believed to help lower the amount of creatinine in your blood. Nettle leaf tea is able to increase your renal excretion, which will eliminate excess amounts of creatinine. Besides, salvia is an herb that increases your glomerular filtration rate, which helps to facilitate the elimination of creatinine.
3. alternative medicine treatment
With Micro-Chinese Medicine Osmotherapy, traditional Chinese medicines are chosen based on an individual patient's condition. These medications are applied externally to achieve the purpose of repairing kidney damage and improve renal function. When kidney function is enhanced, high creatinine will be lowered naturally and effectively.