What Should You Do To Reduce High Creatinine Level On Diet
2015-02-14 02:51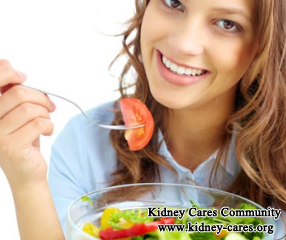 High creatinine often mean severe kidney damage, so it is very important for you to pay attention to diet, because diet can make a significant influence to patient's health condition. It is necessary for high creatinine patients to understand what foods should be avoided, because it is very helpful to deal with your condition.
Foods that contain much protein
Protein can produce a lot of wastes, which will need to be filtered out by kidney, so taking foods that contain too much protein will increase your kidney burden, which may aggravate kidney damage. Thereby, you may need to avoid foods like sea foods, beans, or patients should restrict the intake of these foods so as to keep a low protein intake.
High sodium food
High sodium intake can cause you have high blood pressure or edema. So you should avoid foods that contain high sodium like processed foods, and you also need to restrict the salt intake on diet.
Foods with high phosphorus
High creatinine may mean kidney failure. Patients with kidney problem often have high phosphorus in blood, which can cause severe condition to patients. So patients may need to avoid foods that contain lots of phosphorus, like dairy product, chocolate and viscera, etc.
High potassium foods
High creatinine patients also have potassium disorder, and it is more likely for patients to have hig potassium in blood, which can cause many severe problems like irregular heartbeat, heart attack and muscle cramps. Thereby, you should avoid foods that contain much potassium, like banana, orange, beans, etc.
As we know, different patient will have different conditions, so patients will have individual diet plan. The above are common problems that patients with high creatinine may meet, but patients will need to regulate his eating plan according to their own conditions.
Diet does help kidneys, but only diet is far from enough to improve kidney function. You should take effective treatment to repair injured kidneys and improve renal function.
Our Treatment Effect
High creatinine level is dangerous to a kidney patient
Move the mouse to enlarge the picture
If you also want to reduce your high creatinine level, please look at this patient's report. When he was just hospitalized in our hospital on Dec 11, 2018,
His creatinine:1028umol/L,
urea: 39.7mmol/L
UA : 513umol/L
After a period of our treatment,
his creatinine:331umol/L, urea:16.1mmol/L
UA :325umol/L on Jan 5, 2019.
His condition was getting better and better. You can also get better.
For a CKD patient, you can choose Chinese medicine treatments to control your condition. your creatinine level can be reduced radically, symptoms can be alleviated and more importantly, your renal function will be improved. In this way, you can stay away from end stage kidney disease and avoid dialysis.