Are There Remedies To Lower High Creatinine Level Rather Than Dialysis
2015-01-31 01:40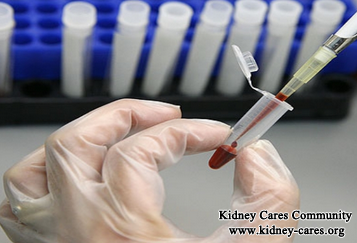 Dialysis is the most common therapy for patients to lower creatinine level. It can lower creatinine level to some extent but at the same time some side effects can also be triggered such as poor appetite, nausea, vomiting, muscle cramp and weakness. Are there remedies to reduce high creatinine level instead of dialysis?
To treat high creatinine level, in our hospital we also use plasma exchange and hemoperfusion.
Plasma exchange
Plasma exchange is a blood purification procedure used to treat several autoimmune diseases. It focuses on removing antibodies from the bloodstream, thereby preventing them from attacking their targets. Plasma exchange can be used to treat many diseases like poisoning with different causes, autoimmune diseases, blood diseases, nervous system diseases, hepatic failure and family hypercholesterolemia and so on. In case of various kidney diseases, plasma exchange is particularly effective in treating lupus nephritis. Plasma exchange can clear toxins in the blood, but fail to prevent the generation of them. Thereby, it can not be used alone as the treatment of immune-related order. In clinical, plasma exchange is always used together with immunosuppressive agent, so as to achieve a better therapeutic effect.
Hemoperfusion
Hemoperfusion, also called blood perfusion, is a medical process used to remove toxic substances from the blood.
Hemoperfusion shows great treatment effects in clearing serum creatinine, uric acid, middle molecular substances, organic acid and many other medicines, but fail to remove urea nitrogen, phosphate, water and electrolyte. Therefore, in case of end stage renal failure, hemoperfusion is used together with hemodialysis.
Different kinds of blood purification technology shows different treatment effects in treating kidney disease. The use of more than two blood purification techniques at the same time or at different times during the course of the disease can improve patients' prognosis more than the use of single methods.
Blood purification technology plays a significant role in treating kidney disease, but it only present temporary treatment effects, as toxins in the blood pile up day by day due to failed kidneys. Therefore, it is far from enough for kidney disease sufferers to receive radical recovery simply with blood purification technologies. The radical recovery for kidney disease patients should repair impaired kidneys and improve renal function. Chinese medicine has strong ability to dilate blood vessels, prevent inflammation and coagulation, degrade extracellular matrix and improve blood circulation. After a period of treatment, kidney damage can be repaired and kidney function can be improved greatly.