Is Dialysis Needed with Creatinine 6
2015-01-22 08:45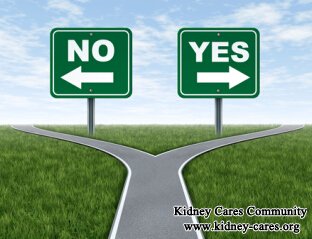 Dialysis is needed when the toxin concentration in blood is very high. It can maintain your life and relieve body malaise. Is dialysis needed with creatinine 6?
Creatinine is passed out of the body by kidneys. Healthy kidneys can manage creatinine level into 0.5-1.2 mg/dL. Because of powerful compensation, creatinine level does not increase until more than 50% kidney function has been lost. Now your creatinine level reaches 6, which is far beyond the normal range. It indicates that your kidneys are severely damaged. Generally speaking, dialysis is recommended when creatinine level is as high as 6-7. However, creatinine is not the only indicators of dialysis. When you have the following medical conditions, you should do dialysis.
-Blood urea nitrogen is more than 35 mmol/L (97.6 mg/dL).
-Endogenous creatinine clearance rate is less than 10 ml/min.
-When your blood potassium level is more than 6.5 mmol/L, when you have less urine output, severe edema, heart failure, pulmonary edema, encephaledema, when you have metabolic acidosis and your pH is less than 7.2, when you have pericarditis, alimentary tract hemorrhage, neuropsychiatric symptoms, you may have to do dialysis to relieve those symptoms if you can not control them with medication treatment.
Besides, when your disease worsens quickly and you have severe anemia or diabetes, you should take dialysis as early as possible.
However, it is not good for all kidney failure patients to receive dialysis treatment too early, because as long as you start dialysis, you can not stop it. Long-term dialysis makes your remaining kidney function lose totally. And it brings you many complications, such as skin itch, muscle cramp and heart failure so as to affect your life quality.
Is dialysis needed with creatinine 6? It depends on your medical condition. If you still have urine output, it is possible for you to improve kidney function and keep dialysis away. For more information about how to restore kidney function, please contact online doctor.