Will Flaxseed Meal Lower Creatinine Level
2015-01-14 10:01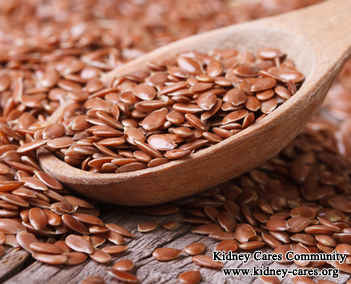 Will flaxseed meal lower high creatinine level? Flaxseed is rich in fiber, antioxidants, vitamins, minerals, omega-3 fatty acids and low in carbohydrates. It is easy for the body to digest. Most importantly, it provides a variety of health benefits. But can high creatinine level patients eat flaxseed meal?
The most common cause of increased creatinine levels is kidney impairment or any disease causing kidney impairment, including high blood pressure, diabetes, congestive heart failure. Thus, management of diabetes, high blood pressure and heart problems can help lower creatinine levels. In such circumstance, we can see flaxseed is able to reduce creatinine level to some extent. This is because flaxseed has the following health benefits:
1. cardiovascular disease
Plant omega-3 help the cardiovascular system through several different mechanisms, including anti-inflammatory action and normalizing the heartbeat. Besides, eating flaxseed may also help lower cholesterol levels. The level of LDL or bad cholesterol in the bloodstream has been linked to an increased risk of heart disease, obesity, diabetes and metabolic syndrome.
2. diabetes
Diabetes is one leading cause of kidney disease. Research suggests that daily intake of the lignans in flaxseed may improve blood sugar. Flaxseed decreases insulin resistance and may protect against diabetes.
3. prevent inflammation
Inflammation can cause further kidney damage and then lead to elevated creatinine level. Two components in flaxseed, ALA and lignans, may reduce the inflammation that accompanies certain illness by helping block the releasing of certain pro-inflammatory agents. Inflammation management is able to reduce the risk of further kidney damage.
Management of diabetes, cardiovascular disease and inflammation can help lower creatinine levels. Therefore, flaxseeds can be eaten moderately by high creatinine level patients.